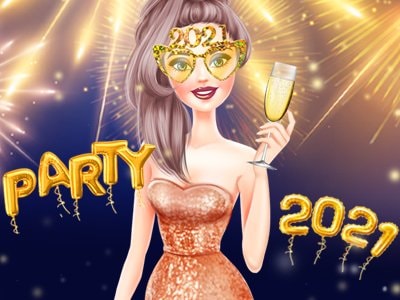 Playing Ellie: New Year's Eve on Prinxy
The story about Ellie: New Year's Eve
Yay, we've made it to the last day of 2020! Let's celebrate it in style together with one of your favorite characters from Prinxy.app! Gorgeous Ellie is in charge of entertaining you this year, and she surely has some great ideas in mind. Like many of us, she's also spending the New Year's at home, and she came up with a busy agenda for the 31st of December. Join her in getting started with this brand-new holiday game for girls called Ellie: New Year's Eve, and learn from our girl how to rock New Year's at home, looking great even in pajamas if you want to!
I have to tell you girls right away Ellie's New Year's Eve 2021 will look a lot different than last year's celebration. The Coronavirus Pandemic changed everything we used to do during the winter holidays, so instead of heading out for a glamorous night on the town, many of us will be settling for an evening on the couch. But spending the night between years at home doesn't mean it can't be just as festive as years in the past. With the right planning, you can still have a super fun New Year's Eve bash right at home! Luckily, you can learn from our famous influencer how to do it! Are you ready to start planning the best New Year's Eve together with Ellie? Then let's hit the play button and start planning!
First thing first, welcome the new year with a clean room! Ellie's bedroom is a bit messy, so you two ladies have to do a bit of cleaning. Collect the clothes scattered around the room, drag and drop them in the closet, arrange the bed, dust the walls, and vacuum clean the floor. Then, refresh the air in the room by sprinkling some aromatic spray of your choice. Great job, ladies! Now, let's help Ellie prep herself to welcome the new year looking great!
In the next level of the game, you have the opportunity to learn some of Ellie's beauty tips and tricks. Play all the steps featured in this online makeover game for girls, and learn from our beauty guru how to pamper yourself at home. Start with the facial treatment. Spoil Ellie's complexion with delicate cleansers and tea tree masks that will remove the acne scars instantly, and then prepare a relaxing bubble bath for her. Wash her beautiful blonde hair with shampoo and conditioner, and then don't forget to treat each strand with a nourishing oil that will give her hair a silky look and touch. Next, surprise her with a professional makeup look! In Ellie's impressive makeup kit, you will find everything you need to create a statement look for her. Choose bold or glitzy eyeshadow for Ellie's festive makeup, and then complement the chosen eyeshadow color with the right blush and a lipstick to match. Draw a perfect cat eye line, apply some mascara, and don't forget to also shape her eyebrows. Next, you should help her choose her outfit!
On the next page of our New Year-themed game, you are challenged to show off your fashion advisor skills and help Ellie find the perfect outfit for her unique new year's party! Even if there won't be guests and she will most likely spend the evening on the couch in front of the TV, wearing something that gives her a good mood is mandatory! So, what should she wear? Play this online Ellie dress up game for girls and glam Ellie in your favorite festive look. There are sequined dresses to choose from, sheer tops, tutu skirts, snake printed pants, and even some cool ripped jeans available at your disposal in her wardrobe. Browse through them all, pick your favorite, and pair the winning look with high heels and accessories of your choice.
Last but not least, decorate the coffee table in the living room with yummy treats and fresh drinks. Next, decide on the fireworks she will be witnessing from her window this year. Make sure to finish decorating in time for the New Year's fireworks!
Game Controls
Use your mouse to interact.
Similar Games
Here are three more New Year Games you should play next: