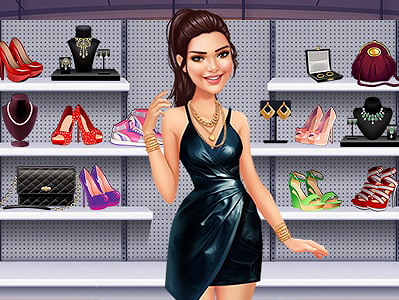 Playing Black Friday: Shopping Mania on Prinxy
The story about Black Friday: Shopping Mania
OMG! So many sales! Black Friday is finally here! Go shopping with this gorgie and get ready to take advantage of all the discounts! In the Black Friday: Shopping Mania game for girls, you and Kendall Jenner are hitting the mall with one purpose in mind: to shop till you drop! Hope you're wearing your comfy shoes, the store opens at 3, 2,1... And it's shopping time!
But, first thing first! Kendall takes her shopping sessions really seriously, so looking at her best is mandatory. Join our beautiful reality-star and supermodel in her dressing room and help her find the best outfit for the upcoming shopping spree! Oh, wait! Kendall has already given up many things in her wardrobe, so there won't be too many options available at your disposal at this stage of the game. But here is where you can prove your stylista skills as you continue playing this online Kendall Jenner dress up game for girls! Browse through her wardrobe, and create an outfit by choosing your favorite dress, shoes, and pieces of jewellery. Now she's ready to hit the mall for a first shopping spree. Are you curious about what she's buying first?
Clothes, shoes, purses, cosmetics, and statement jewellery, that's what you are going to find on her Black Friday shopping list. But how much can you two shop in a 1-minute shopping spree? It depends on how fast your girls move. Kendall already has on her wish list the items she wants. How good are you at spotting them in the store? Kendall's wish list is available at the bottom of the screen. Tap the arrows on the screen, navigate through the aisles, and buy the items on her list. Spot the right items and buy as many items as possible before the time runs out. But be aware, spamming with random clicks will subtract 10 seconds from the timer. When you're stuck, click the HINT button, and Kendall will help you find the missing item. Then, return home and have her try on the new acquisitions!
Oh! Nothing can beat the good mood brought by a successful shopping spree. She's so happy with your shopping skills that she's going to take you to another one. This time you two are hitting the home appliance store and buy some new stuff for Kendall's Calabasas mansion. Dive through all the furniture pieces, decorations, gadgets, curtains, and wallpapers, select the ones on sales, and see if you can buy everything on Kendall's list. Once the items are delivered, you can then help her decorate in this online decoration game for girls.
If you ladies were fast enough to unlock all the items in this game, then we challenge you to prove your skills again, this time in our fun shopping game called Online Shopping: Winter Coat. But if there are items left on Kendall's wish list, then make sure you return to those two mega shops and buy the missing items. Have a great time playing the Black Friday: Shopping Mania game for girls online at Prinxy.app!
Game Controls
Use your mouse to interact.
Similar Games
Here are three more Celebrity Games you should check out: