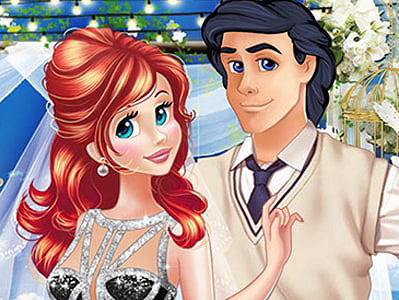 Playing Vintage Glam Double Wedding on Prinxy
The story about Vintage Glam Double Wedding
Wedding bells are ringing for two of your favorite Disney Princesses. Anna and Ariel are getting married at the same time in a glamorous double wedding. Will you help them deal with the latest preparations for the big day? Play the Vintage Glam Double Wedding game on Prinxy.app and help them organize an unforgettable day.
In this free to play wedding game for girls, you are a famous wedding planner who was hired to help the two BFFs choose everything from their wedding gowns to the decorations for the ceremony. Are you ready to impress them with your styling skills first? Then let's see what glamorous bridal looks you can put together for them. When it comes to eye-catching outfits, Anna and Ariel are on the same page. They both are into chic, glam, and luxury which makes the vintage style the perfect choice for their stunning bridal looks.
Get started with this online princess dress up game, browse through their vintage wardrobe, and put together jaw-dropping wedding looks for Anna and Ariel. The variety of wedding dresses that you will find in this game are simply breathtaking. The classic white dresses have been replaced with sweet pastels and stunning sequinned dresses which seem to be inspired by the Great Gatsby movie. Dress each princess in the dresses you like the most and then select the winning one. Next, don't miss the chance to run your fingers through their impressive selection of accessories as well. There are some fancy hats to choose from, diamond jewellery, lace gloves, sparkling clutches, and quite a selection of precious looking high heels. What else to consider? Elegant hairstyles are a must and also an embroidered bridal veil. Wow! Wonderful job, ladies! Vintage is totally the new modern!
Next, don't be afraid to show your designer skill as well. Continue playing this online decoration game with selecting the decorations for the ceremony that will take place in a gorgeous green place near the sea. An archway decorated with delicate flowers, sheer curtains, and light bulbs will be the centrepiece of the wedding setting… find the right place for the chosen one. Next, select some more garden lights or festive balloons, choose the guests' tables, and then feel free to scan through the other decorations and pick everything else that matches your theme.
When you've done, make sure you capture a picture of your creation and then feel free to share it with your friends. Have a great time playing the Vintage Glam Double Wedding game for girls on any device!
Game Controls
Use your mouse to complete all the activities in this online dress up game for girls.
Similar Games
Here are three more FREE Wedding Games you should check out: