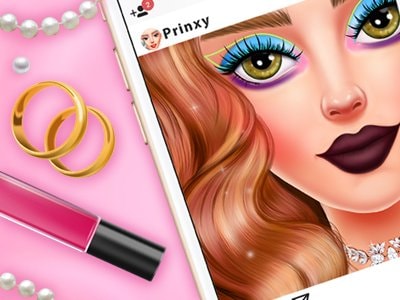 Playing Insta Makeup: Bride on Prinxy
The story about Insta Makeup: Bride
With almost every aspect of her bridal ensemble checked off her to-do list, all there's left to do is find some makeup inspiration that completes her bridal look. Luckily, she has you as her personal makeup artist and some of the prettiest wedding makeup ideas for every kind of bride. In this free-to-play wedding game for girls, you are challenged to create a natural look, a bold look, and a glamorous look for our blushing bride-to-be. Try them all out and find the perfect makeup look for your girl!
Get started with the Insta Makeup: Bride game for girls, and start the fun with a quick doll-maker session. Customize Sophia's skin with a new color, then choose nice hair color to highlight the beauty of her eyes, and don't forget to also browse through the wide variety of bridal accessories. Pick a princess tiara or some hairpins with precious stones, select a bridal veil as well, a pair of sparkling earrings, and a statement necklace to match. Then be ready to experiment with some cool colors as you get to create three unique makeup looks for our gorgeous bride-to-be. But not before prepping her complexion by applying a nourishing moisturizer, contouring, and some highlighter on the highest points of her face.
The first makeup look you're trying out on her is the natural look. Natural nude colors, shades of beige and light pink, chocolate tones, matte lipstick, subtle lashes are the options that will help you create a classic bridal look for young Sophia. Pick up any brush you want, select the eyeshadow color you like the most, and color the highlighted area with delicate strokes. Curl her eyelashes, apply mascara, and color her lips in a natural color. Are you ready for some more?
Then let's try the bold makeup look next! Bold and neon colors would never be her first choice, but this is your chance, ladies, to surprise her with a stunning look. The color plate available for this second makeup is so impressive that you girls will find it hard to stop playing it. Vibrant colors, dark shades of gray, blue, and purple, an impressive selection of eyeliners, and long lashes are the options that will help you create a really bold makeup look for our daring bride. Complement the eyes with full lips in nude colors, or go big with a bold lipstick shade. Sprinkle some setting spray, and be prepared to discover the third makeup look our Prinxy team prepared for Sophia.
Surprising or not, the third makeup look we featured in this online makeup game for girls is the glamorous makeup look. A touch of shimmer on the eyes teamed with a soft, matte, brown shadow is sultry but sophisticated. Apply some rhinestones for a precious effect, and team with a new lip and subtle contouring.
When you're done, save your creation and share it with your friends too! Have a great time playing the Insta Makeup: Bride game for girls online at Prinxy.app!
Game Controls
Use your mouse to browse through all the options in this online game for girls.
If you like this game, you can also try other Wedding Games by Prinxy.app: