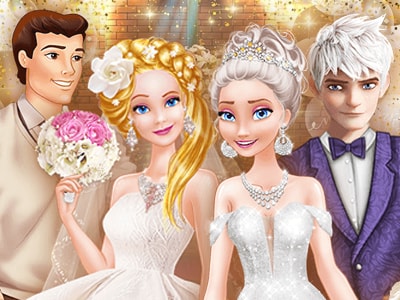 Playing Wedding Battle: Classic Vs Modern on Prinxy
The story about Wedding Battle: Classic Vs Modern
Did you hear that? It's wedding bells ringing in the fantasy world! Two lovely couples are getting married today, and their wedding celebration became a bridal war that you wouldn't want to miss. A classic wedding and a modern wedding enter the fashion battle today, and there will be only one winner. Which wedding theme do you think it's going to win? Let's find out getting started with the Wedding Battle: Classic Vs Modern dress up game for girls online at Prinxy.app!
But first, we should meet the lucky couples. On one hand, we have the beautiful fashionista Ellie and her soon to be hubby Ken. On the other hand, we have stylish Queen Elsa and Jack Frost. Both these brides are keen on different styles, and in this online wedding game for girls, you get to help each future bride look stunning dressed in the dress that best suits her style. While Ellie loves extravagant bridal dresses with modern cuts, faux-feathers, and lots of glittering beads, Elsa is all in for classic lace dresses in sparkling white. The fashion dispute is under the spotlight, and with your help, we are going to find out who has the coolest bridal style. So get started with this online dress up game for girls, and as their wedding planner decide on the winning bridal dresses, and the statement pieces of jewelry our brides are going to wear on the most important day of their life.
Hit the play button to join them in, and be prepared to discover who will be the first bride in line to discover your styling skills. This princess game begins with a quick raid in Ellie's amazing wardrobe. Are you ready to take a look? Even from the first glance, you will see that she prefers extravagant looks, the bridal dresses she owns being available in a wide variety of colors and styles. But wait to see until she begins trying them out! They surely fit her style! When it comes to accessories, Ellie is the lucky owner of the coolest diamond jewelry ever seen. Simply select a set that matches the chosen outfit. Next, complete her bridal look with a new hairstyle. Are you ready for some more?
Then feel free to take a peek in Elsa's wardrobe, too. Continue playing this online fashion game for girls, browse through Elsa's wardrobe, and see what classic bridal look you can put together for our Frozen Queen. She just loves elegant gowns, her jewellery is all beaded in precious stones, and her selection of clutches is designer labeled. Mix and match your favorites and make sure she looks great while walking down the aisle.
Take all the time you need and have a blast helping the two brides choose the best outfits for the fashion competition. Don't stop until you are happy with the final result. A new fashion battle is about to begin, who do you think is going to be our winner?
Have an amazing time playing the Wedding Battle: Classic Vs Modern online at Prinxy.app!
Game Controls
Use your mouse to browse through all the options in this online game for girls.
Similar Games
Here are three more Wedding Games you should check out: