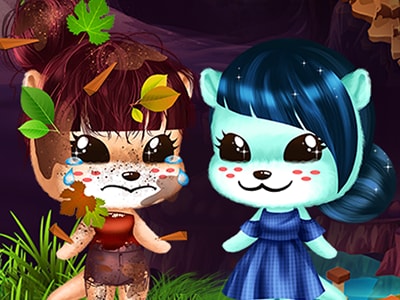 Playing Lotta The Otter Rescue on Prinxy
The story about Lotta The Otter Rescue
Today we are going to tell you, girls, the story of little Lotta, an adorable female otter. One day she ventured into the woods in search of a new adventure, but unfortunately, she got lost. She walked into the cold and rain for hours until she wandered into the cottage of a kind human, you! Scared, injured, and a bit messy was she when you two ladies met, but with a little bit of help from your side, she'll get her spark back in no time. Come and play this brand-new pet game for girls called Lotta The Otter Rescue, and see if you can properly take care of your new friend, a lovely otter.
This online animal rescue game for girls features five entertaining activities that you are going to love. The first one is a multi-leveled animal caring task in which you can take care of Lotta's injuries, wash her fur, dry it, and comb it until it untangles. You can start by removing the twigs in her fur, and then you can remove the leaves as well. Clean up the mud patches next, and then you can spoil the little otter with a warm bubble bath. Use a delicate soap to cover her body in bubbles, sprinkle some warm water to remove the foam, and then dry her fur with a clean towel. Oh yes, her fur is so fluffy now! Comb it well, and then wrap Lotta in a clean blanket. And so the caring process is all completed, and you can move forward to discover a new task!
On the next page of the game, you get to discover all the fancy clothes our Prinxy team has prepared for cute Lotta. This online otter dress up game for girls features some of the chicest clothing pieces and accessories you've ever seen. Will you help our Lottie dress up for a new day? Run your fingers through Lotta's brand-new wardrobe and select whatever you like the most to dress her up for a new adventure. There are girly-girl dresses available at your disposal, chic jumpsuits, crop-tops, skirts, shorts, tights, and more. Mix and match your favorite clothing pieces with colorful hairstyles, and girly-girl hairpins. She looks great in her new outfit, doesn't she?
Now let's help your new friend find herself a new home! How good are you girls at solving online puzzle games? Swipe the tiles of the given puzzle to put them in the correct place, and don't stop until you manage to unlock a new habitat that Lotta can turn into a lovely home. Keep in mind that when you set a piece correctly, it is blocked, and you can't move it anymore. If two pieces are in incorrect places, you can switch between them and put them in the right place. Once you manage to put all the puzzle pieces together, a nice habitat will pop in front of your eyes. Will you turn it into Lotta's new home?
The 5th activity featured in this online pet game challenges you, girls, to play a fun decoration game that you are going to love. Hope you are ready to practice your designer skills next and turn the muddy den into a lovely home for our adorable otter. Use a pickaxe to crack the boulder that covers the entrance, then use some gardening scissors to remove roots and weeds, and then take off those terrifying spiders playing around. Sweep the floor to remove debris and then browse through all the decoration options available at your disposal to decorate Lottie's new home. Great job, ladies! Thanks to your help, Lotta's story has a happy ending and she's so grateful for it!
Have a great time playing Lotta The Otter Rescue game for girls online at Prinxy.app!
Game Controls
Use your mouse to browse through all the options in this online game for girls.
Similar Games
If you like this game, you can also try other Pet Games by Prinxy.app: