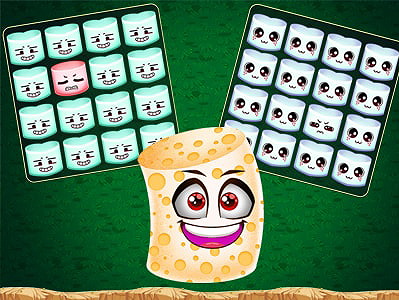 Playing Hello Mello on Prinxy
The story about Hello Mello
If you kids are looking for something fun to play today, then look no further. We invite you to take the marshmallow test in this addictive game called Hello Mello. Are you ready to learn more?
Let's meet our main character! Her name is Mello and she is one playful, fluffy, white marshmallow that is going to keep you entertained today. The challenge Mello brings is a spot the difference game where you can test your observation skills. Simply put, everything that you have to do when playing the Hello Mello game is to discover one intruder in a batch of fluffs of the same kind. The real trick is to do it before the time runs out. Are you ready for this task?
Then, let's get started with the Hello Mello Game for girls! First, you need to learn how to play it. There is a step-by-step tutorial available at the beginning of the game, don't skip it. Next, have a blast showing off your skills. Scan the grid filled with funny marshmallows and click the one you find slightly different, but keep your eyes on the timer as well. As you advance in the game, the squares of the grid become smaller and smaller, and there will be more and more marshmallows added in it. At this point, spotting the different one becomes even harder but whenever you're stuck, you can simply use the magnifying glass for a helping hand. It is available in the lower-left corner.
The reason why we play with these fluffs instead of cooking them at the campfire is simple. You complete challenge after challenge to reach the Mello decoration game. Whit every new level you complete, a new item becomes available in Mello's special selection of toppings, and you can customize your marshmallow's look as you wish. Return to the Mello decoration game as often as you can and prettify your fluffy friend with new pastel colors, crazy contacts, icings, and toppings of your choice.
Have a great time playing the Hello Mello game for kids online at Prinxy.app!
Game Controls
Use your mouse to complete all the activities in this addictive game for boys and girls.
Similar Games
Here are three more Dress Up Games you should check out:
Hug A Friend Day
Twinchella Challenge
Superstar Kitty Fashion Award