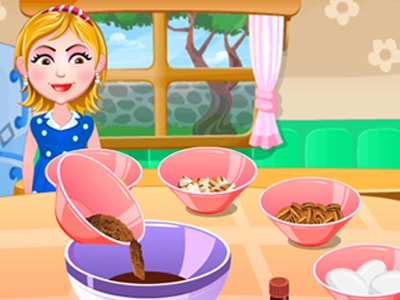 Playing Hazel And Mom's Recipes: Pecan Pie on Prinxy
The story about Hazel And Mom's Recipes: Pecan Pie
Hazel and Mom's cooking series continue with a brand-new adventure. This time Hazel was in the mood for a delicious autumn pie, and her mom is going to surprise her with a delicious Pecan Pie. You can learn some amazing baking tips from Hazel's mom in this online cooking game for girls. Are you ready to give it a try? Then get started with Hazel And Mom's Recipes: Pecan Pie game for girls and learn how to make this yummy dessert on your own!
Pecan pie is a traditional all-American Thanksgiving dessert and is considered a specialty of Southern U.S. It is usually served with whipped cream or a scoop of ice cream, but Hazel prefers corn syrup for her. It's really a matter of taste, but let's learn how to make it first, and then we can decide on the topping. So roll up your sleeves, wash your hands and be prepared for a fun cooking class! There are four important stages that you need to complete while playing the Hazel And Mom's Recipes: Pecan Pie cooking game online at Prinxy.app. Complete them all to learn how to make the best pecan pie ever together with these two iconic characters.
Next, let's make the pie crust. In this online cooking game, Hazel's Mom is going to use a pre-made buttery pastry. You can buy it from a local supermarket, or you can make it on your own. But no matter the origin of the pastry, make sure you fill in the thin's folds well to make sure the pie crust will bake perfectly. Before putting the pie in the oven, fill the tray with baking beans and bake the crust for 15-20 minutes until the sides are set. Leave to cool and meanwhile make the pie filling.
Drag and drop the dried ingredients into a large bowl and mix them well. Gradually add the eggs, the vanilla extract, stir through the pecans, and then pour the mixture into the tart case. Put the pie into the oven again and bake it again until it turns golden brown. Keep in mind that the filling should wobble a little in the center when shaken. Leave it to cool in the thin for at least 1 hour. Then serve it with corn syrup and some extra pecans.
Enjoy playing Hazel And Mom's Recipes: Pecan Pie cooking game for girls online at Prinxy.app!
Game Controls
Use your mouse to interact.
Similar Games
Here are three more Baking Games you should check out: