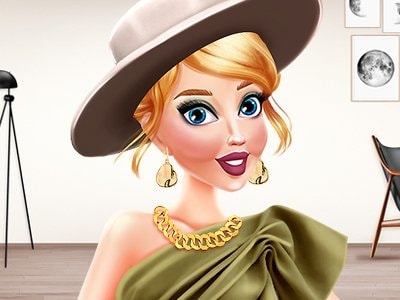 Playing New Lifestyle: Minimalism on Prinxy
The story about New Lifestyle: Minimalism
It's the beginning of a new year, and princess Cinderella has decided to experience a new lifestyle. In 2021 Ella wants to become a minimalist, and you can help her out! In this brand-new cleaning game for girls called New Lifestyle: Minimalism, you help one of your favorite Disney princesses to start a major tidying up session and get rid of the clutter. Are you ready to discover what it takes to become a minimalist?
The minimalist lifestyle is about living with only the things you need. Being a minimalist has many practical benefits for your life. It costs less, it requires less time and energy to maintain your lifestyle, and it also brings a lot of free time to focus on your truest passions. Becoming a minimalist starts with a simple decision and a major cleaning session, and together with princess Cinderella, you can discover if a minimalist lifestyle is for you. Get started with the New Lifestyle: Minimalism game for girls to find out!
Cinderella's room is a huge mess. There are many clothing pieces and makeup products scattered all over the floor. She bought all this stuff for various reasons. They were on sale, they were trending, or she thought they would bring her so much happiness. But it's time to get rid of the things that don't spark her joy. Inspired by the Marie Kondo cleaning method, this first cleaning session you are about to start is going to teach you how to select the clothing pieces and the accessories you like most. Less is more minimalists believe, so you girls shouldn't forget that the number of items you get to keep is limited. Choose wisely! Browse through the pile of clothes and select the dresses you'd like to keep, and then 6 two-piece outfits, too! Next, peek through the wide variety of high heeled shoes, bags, and jewelry and select six from each category. Once Ella's wardrobe is in perfect order, you can then go ahead and dress her up in your favorite clothing piece from all the ones you've picked.
Are you ready to discover more about the minimalist fashion style? Then continue playing our minimalism-themed dress up game next! One major principle defines minimalist fashion: keep it simple! Streamlines shapes, a small selection of colors, and some must-have key items will help Ella stand out in a simple yet oh-so-chic #ootd. Browse through the selection of white shirts, straight pants, pencil skirts, fit and flare dresses, shirt dresses, camel trench coats, and choose the outfit you like the most to dress her up. Choose a pair of leather boots or some simple black sandals, and then browse through her selection of accessories as well. Golden and silver oversized jewelry, designer watches, and mini bags are the key accessories that will add some much chicness to Ella's simple outfit, so pick the ones that best complement the chosen outfit. Great job, ladies!
With the wardrobe set up and a jaw-dropping minimal outfit, princess Cinderella is now ready to deal with the second cleaning session on her to-do list. Next, you can help her organize her makeup kit as well. Drag and drop the makeup products to the right case, and then get ready to put your makeup artist skills to the test. The next stage of the game reveals a free to play makeup game in which you get to create a minimal makeup look for your favorite Disney girl. There are a few hacks Cinderella knows regarding the minimal makeup look, so you girls better are prepared to steal some tricks if you also want to wear her signature 'no makeup' makeup look. First, make sure you use neutral colors such as beige, white, pale purple, light pink for her eyeshadow. Next, apply a peachy blush on her cheeks, lipsticks of your choice, and then finish Ella's minimal makeup look with some black mascara.
One more challenge! Deal with the next decoration task, and you've completed all the steps in Cinderella's transition to the minimalist lifestyle. She now needs to redecorate her living room, and here you can prove your interior designer skills. Go through the wide variety of decorations available in earthy colors and golden hints, and choose your favorites to decorate Cinderella's living room in a minimalist style. Well done, ladies!
Have an amazing time playing the New Lifestyle: Minimalism game online at Prinxy.app
Game Controls
Use your mouse to browse through all the options in this online game for girls
Similar Games
Here are three more Lifestyle Games you should check out: