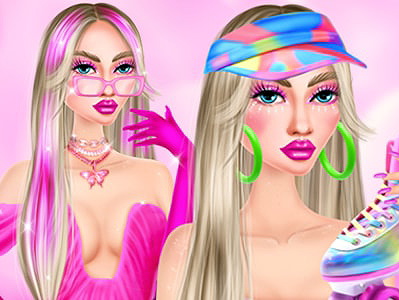 Playing Barbiecore on Prinxy
The story about Barbiecore
There is a new trend in town, and you girls will love it because it's all about hot pink and bubblegum. The girly fashion aesthetic inspired by Barbie's glam world is the central theme in this free-to-play dress-up game that you ladies will love. Come and join sweet girl Ellie in the Barbiecore dress-up game for girls and discover our girl's addiction to hot pink outfits and you help her dress up for a fun day!
But before diving into Ellie's selection of eye candy outfits, get ready to work on your makeup artist skills first. Barbie is having a moment not just in fashion but in beauty as well, and in our online makeup game for girls, you get to create the sweetest Barbiecore-inspired makeup looks that will get all the heads to turn while walking down the street. Bright pink eyeshadow, slick pink lip gloss, power pink blush, and even some hot pink shades will help you start dealing with Ellie's super sweet doll look. Then you can complete it with black mascara and sparking face jewels. Now that you know you can rock this doll-like makeup trend, get ready to swipe through the wide selection of clothing pieces and accessories below to check out more Barbiecore inspiration.
Barbiecore is TikTok's new favorite hair, makeup, and nail aesthetic trending right now, and Ellie's goal is to cover the fashion trends with her pink-on-pink fashionable outfits. In this fashion game for girls, you can create two colorful outfits for our beautiful lady here. For the first one, you get to help Ellie choose her casual look while mixing and matching clothes and accessories in different shades of pink. For this, you can go for crop tops and mini-skirts or select your favorite designer dress for her to wear today. Next, glam Ellie's outfit with sparkling jewelry, sunnies, and fancy bags. Are you ready for some more?
As you continue to play our colorful dress-up game for girls, you get to dive into Ellie's sporty chic selection of clothes inspired by Magot Robbie's statement rollerskate girl looks from the movie Barbie. She's going to go rollerskating downtown, and as a trendsetter, she needs to look her best. Continue next with the second fashion challenge we've prepared for you in the Barbiecore dress-up game, and this time have fun pairing your favorite bodysuit with the most colorful gym shorts that will help you create a jaw-dropping summer look for our girl. Complete your selection with the right sporty-chic accessories and a cool pair of roller skates.
Have a great time playing the Barbiecore TikTok game for girls online at Prinxy.app!
Game Controls
Use your mouse to browse through all the options in this online game for girls.
If you like this game, you can also try other TikTok Games by Prinxy.app: