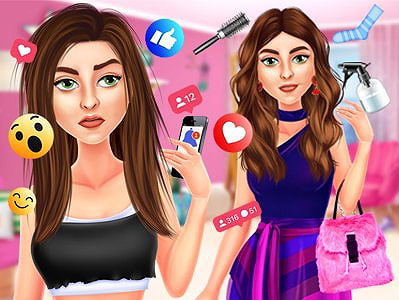 Playing Haley Tries Heatless Curls on Prinxy
The story about Haley Tries Heatless Curls
There is a cool beauty hack trending around on TikTok, and Instagram for perfect no-heat curls, and in case you missed it, make sure you don't skip this brand-new Prinxy Game for girls! In the Haley Tries Heatless Curls game, we share with you four unique ways to curl your hair overnight without using heat. Say bye-bye to expensive hair salon trips, and get ready to practice your hairstylist skills in this online hair game for girls!
But first, let's meet our cool influencer! Her name is Haley, and she's one beauty guru you definitely have to follow on social media. She experiments a lot with everything she finds online, and she has a solution for any bad hair day issue. She's super talented when it comes to styling her own hair, and she's the influencer who made the no-heat curls so popular on TikTok. Are you ladies ready to discover Haley's most popular no-heat curls technique? Then get started with this free to play hair game for girls and have a blast learning how to make the perfect curls at home using the most trivial things you could think of.
Bathrobe tie curls are viral on TikTok, and Haley is going to teach you step-by-step how to make them. So if you were looking for the perfect waves tutorial, look no further. Get started with the Haley Tries Heatless Curls game for girls, and begin prepping Haley's hair for the styling process. Comb it well, fix the bathrobe tie on her head with fancy clips, then twist the hair strands around the cord. Well done, ladies! Now, wait patiently for the magic to happen and then see what stunning outfit you can choose from Haley's wardrobe to dress her up. She plans to go for a walk, so something comfortable and cute would make the best option.
Are you ready for some more? Then let's try the socks curls! This hair styling method has the internet on fire, and Haley can't wait to share her method with you! This time Haley's hair needs to be a little wet, so start by sprinkling it with water. Then divide it into four larger strands, and twist each strand on a long sock. Secure the ends, and make sure to remove the socks only after a couple of hours. Haley recommends using this method overnight. This way, the loops will be more defined and will last longer. Next, dress her up in a chic sequined dress, accessorize her outfit with jewelry, and she's ready to join her boyfriend for dinner out in the city!
Wow! Did you girls know that you could use colorful straws to get fun curls? Let's try the straw curls method next! Sprinkle a little bit of water again, and then spin thin strands over colored straws. This method will turn Haley's hair into thin, bouncy curls that she could wear to school. Next, help her find the best outfit to go with this playful hairstyle, and don't forget to accessorize the chosen school outfit!
Last but not least, let's discover the paper towel method for the heat-free curls, but be aware when you cut the paper off Haley's hair! Using the scissors can be a bit tricky! According to Haley, the paper towel method makes the best messy curls. She's into boho fashion these days, and a messy hairstyle will perfectly complete her boho-chic #ootd!
Have a great time playing this awesome hair and dress up game for girls called Haley Tries Heatless Curls online at Prinxy.app!
Game Controls
Use your mouse to interact.
Similar Games
Here are three more Hair Games you should play next: