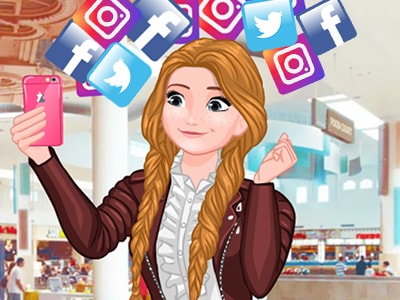 Playing Anna Social Butterfly on Prinxy
The story about Anna Social Butterfly
Being an influencer on social media these days is a full-time job. You have to create new content as often as possible, you have to get in touch with your followers daily, and you should find creative ways to keep your followers updated with the things you do. Come and learn from our influencer what it takes to be famous on social media while playing this brand-new dress up game for girls called Anna Social Butterfly.
In it, you are going to find Princess Anna. Anna is always online, a social media butterfly - that's what she is! Instagram, Facebook, Twitter – when it comes to social networking, she won't miss a thing. Behind the camera, she lives a normal life, but she knows how to capture each moment and how to turn it into a cool post for her feed. Anna's followers are crazy about everything that she posts, and keeping them updated is what she loves doing the most. You girls are really lucky! You get to spend a full day together with this famous social media influencer, and you can steal some of her tips and tricks! Play this free to play princess game, join princess Anna, and hang out with her friends and family while you also help her share her happy moments on social media. Don't miss this unique chance!
But first, you should help her choose the best clothes to wear from her closet. She's getting ready for tons of amazing get-togethers with her friends. The first meeting on her busy agenda is a shopping spree with her best friends, Snow White and Jasmine. What should she wear, huh? She needs some comfy flat shoes and a girly-girl outfit to go with flats. A flower printed dress and striped pants are two of your options, but you could also dress her up in a classic black jumpsuit. Style her hair, and then don't forget to snap a picture of the three happy friends shopping together at the mall. Post it to Facebook!
Wondering what's coming up next in this Frozen Game for girls? Anna's Instagram community is huge, and her followers always return to get inspired by her daily outfits. Give them more! This afternoon she's meeting Queen Elsa for a late lunch, and she needs a comfy but chic outfit. They are going to their favorite pizza place in town, and Anna still needs to choose her outfit. Will you help her again? Continue playing this fashion game, browse through Anna's wardrobe, and put together a new chic outfit for her. Great job, ladies! Are you ready for some more? Be ready to meet her handsome boyfriend next. His name is Kristoff, and together they rule Twitter like no couple out there. Fans love to keep up with everything they do, and the couple always updates their followers with new pictures and catchy captions. They are heading to the beach next. Will you help Anna choose the loveliest bathing suit and a chic sheer dress for this occasion?
Have a great time playing the Anna Social Butterfly Dress Up Game for girls online at Prinxy.app!
Game Controls
Use your mouse to interact.
Similar Games
Here are three more Princess Anna Games you should check out: