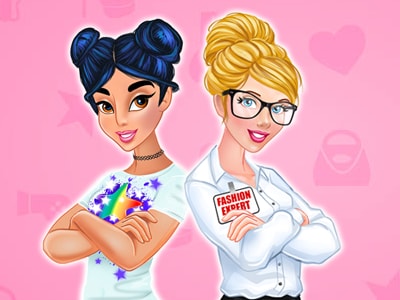 Playing Princess Anti-Fashion: Color Blocks on Prinxy
The story about Princess Anti-Fashion: Color Blocks
There are so many fashion rules you need to know when mixing and matching your daily outfits. Orange and red don't go well together, nor red and pink, but who makes these rules anyway? Princess Jasmine has decided to break out of the ordinary, so she directs her own revolutionary show called Princess Anti-Fashion! Here she supports other princesses in the fantasy land and helps them stand out in jaw-dropping outfits made of so-called blocking colors that are actually colors that don't go well together. Are you curious to find out which princesses support her in this online fashion revolution? Play the Princess Anti-Fashion: Color Blocks dress up game on Prinxy.app to find out!

But first, let's see what the fashion experts say. Princess Cinderella is here to explain what color blocks are and why we shouldn't put them together. So according to Cinderella, color-blocking is thought of as the exploration of taking colors that are opposites on the color wheel and pairing them together to make interesting and complementary color combinations. Wearing blocks of colors is bold, daring, and not very ladylike Cinderella thinks. On the other hand, Princess Jasmine is here to break the rules and show everyone that opposite colors can look great together and that with a little bit of attention to detail even royals can look stunning in bold colors. Get started with this free to play fashion game for girls and help Jasmine and her friends create some fun combinations.
In this princess game, you team up with fashion rebel Jasmine and her best friends Elsa and Moana, and together you create jaw-dropping combinations of blocking colors and prove that they might look fresh and stylish together. First, Jasmine is going to teach you how to mix and match blocking colors in statement outfits, and then you can also dress up Elsa and Moana as you wish. Ready to prove your stylista skills?
Have fun playing the Princess Anti-Fashion: Color Blocks dress up game for girls online at Prinxy.app!
Game Controls
Use your mouse to interact.
Similar Games
Here are three more Fashion Games you should play next: