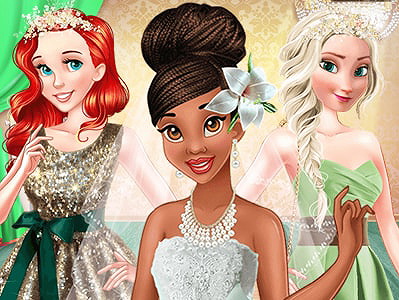 Playing Tiana's Spring Green Wedding on Prinxy
The story about Tiana's Spring Green Wedding
Princess Tiana has always wanted to get married on a green day of spring, and today her childhood dream is about to come true! Her prince is giving her the wedding of her dreams, and she can't wait to walk down the aisle for him. Her BFFs, Ariel and Elsa, are her bridesmaids, and you ladies are also invited to join the fun. Will you help Princess Tiana get her bridal look on in this free-to-play dress-up game for girls called Tiana's Spring Green Wedding?
As you might already know, Tiana's favorite color is spring green, so that's why she and Naveen picked it as their wedding color. They already established all the details of their wedding day, and you just have to dress up the bride and her bridesmaids. Are you ready to get it started? The first one to discover your fashion adviser skills is Princess Ariel! Browse through all the selections of elegant dresses, and pick your favorite to dress her up with. It can be long or short, printed, or in a nice pastel color. Dress Ariel up in the ones you like the most, pick your favorite and then accessorize it with designer heels, an elegant clutch, and some pieces of jewelry. For Elsa, choose a strapless green dress and a fancy fascinator for a complete look.
Next, it's time to dress up our blushing bride. In this princess game for girls, her long brown hair has already been styled up in a casual bun, so you can focus on her bridal dress. The selection of bridal dresses available at your disposal in this wedding game is quite impressive. Among all the white dresses you can find some lovely green dresses that follow the theme picked for Tiana's wedding theme. Which one will you pick? Complement the chosen bridal dress with a delicate veil, a green bouquet, and sparkling jewelry.
Have a great time playing Tiana's Spring Green Wedding game for girls online at Prinxy.app!
If you like this game, you can also try other Wedding Games by Prinxy.app: