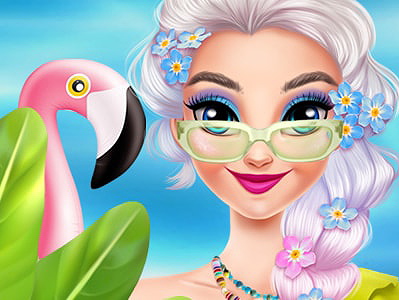 Playing Ibiza Pool Party on Prinxy
The story about Ibiza Pool Party
Yay, the summer vacation is finally here! Elsa and Ariel are so excited about it. This year they made huge plans and with your help, they are going to have the best summer yet. Come and join the two BFFs in this free-to-play makeover game for girls called Ibiza Pool Party, and help the princesses have a summer vacation to remember!
The weather in the city turned out to be super hot this summer, so Ariel and Elsa made some last-minute plans to go away and chill by the pool. Ibiza seemed a good option for their holiday, and here is where you are invited to join the girls for some summer fun! In this online makeover game, Elsa and Ariel have prepared some girly-girl summer activities that you are going to love. Are you ladies ready to embark on a fun trip to Ibiza? Then simply get started with the Ibiza Pool Party, and have a blast together with your favorite Disney princesses!
The first thing on your to-do list is a trip to the local spa, where Ariel and Elsa want to go for some special beauty treatments. The girls are going to attend a pool party later on today, so the challenge for you is to help them look great! Are you ready to impress them with your beautician skills? Then hurry up and join Queen Elsa in the spa as she's the first one to discover your beauty treatments. Pamper Elsa's complexion with delicate algae face mask and her body with some nourishing oil. Next, apply salt scrub on the body, wash it off, and then cover her face and body in a generous amount of sunscreen lotion. Remember ladies: you should never expose yourself to the sun without proper protection. Sunburn leaves serious marks on your skin and speeds up the aging process. Are you ready for some more?
Then go on, and continue this online princess game with pampering princess Ariel next! This time you get to use a gold mask on her face and some hydrating cream on her body! Apply coffee scrub on face and body to remove the dry skin, wash it off, and then apply some sunscreen spray on face and body. Once you're done with Ariel's beauty treatment, you can then continue with proving your make-up artist skills next! The colors available at your disposal in our exclusive makeup game for girls are some of the cutest. Browse through all the options available, and pick the eyeshadow color and the lipstick shade you fancy the most. Then complete the girls' makeup look with a natural blush color and a glowing illuminator. Great job, ladies! The girls are almost ready to head to their first pool party in Ibiza, but not before you get them dressed in chic beachwear!
The third challenge Elsa and Ariel have prepared for you in the Ibiza Pool Party game comes in the form of a dress-up game. The girls picked the chicest bathing suits for their trip to Ibiza, but they can't decide what to wear, and here is where you can help them out. Have the girls try on all the bikinis and swimwear you like the most, pick your favorites, and then accessorize the final looks with ombre hairstyles, chic sunnies, and colorful chains.
Have a great time playing the Ibiza Pool Party game for girls online at Prinxy.app!
Game Controls
Use your mouse to browse through all the options in this online game for girls.
If you like this game, you can also try other Summer Games by Prinxy.app: