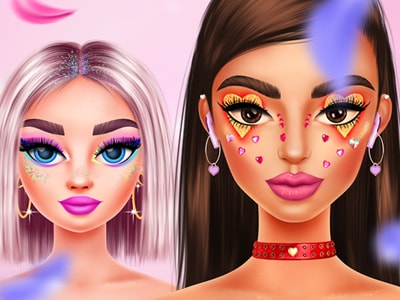 Playing TikTok Floral Trends on Prinxy
The story about TikTok Floral Trends
This summer seems to be a touch floral as far as makeup trends are concerned. In today's TikTok Floral Trends game, you will discover this vibrant summer trend, and learn how to create three different floral looks for your favorite Clony Girls!
Are you ready to take a look? We at Prinxy.app are all about the floral look and love it so much we have three more #FloralTrends makeup looks coming out this summer. The first one stars Kiki, a talented artist who will walk you through her unicorn-themed makeup look inspired by the magical world of these fantasy creatures. Recreating her makeup look is easy, you need to follow a few basic makeup steps, and you'll be ready to impress all your friends at the upcoming beach party. Experiment with various shades of eyeshadow and mix them in endless combinations. Then add some glitter on top of her eyes, and apply mascara, blush, and a bold lipstick shade to complete her look. Don't forget to pick some sparkling gems that will add up a great finishing touch to your creation!
Great job, ladies! Now let's hurry up and join Olivia next. She could also use your help, but keep in mind that her challenge isn't your average makeup game for girls. With such amazing doll-like features and a fantastic sense of style, Olivia is here to show you what she's got in her kit. From shimmering eyeshadow options to glowing highlighter options, girly-stickers, and TikTok trending accessories, Olivia's makeup look is screaming originality. Make Olivia go colorful with a pink and yellow look or give her an urban, trendy look with red and white eyeshadow. Complete Olivia's trendy look with bold mascara and some glittering face stickers. Once you've created a masterpiece on her face, choose some accessories that will complement her look.
Hope you're ready for some more we are continuing with Regina's makeup session right away! She is so ready to try a new look, are you too? This time, she wants to try cold-colored makeup, and you're getting the chance to choose from a bunch of ice flower designs, petals, and glittering gems the ones that look the best on her. Go through all the options we've prepared at your disposal in this third makeup unit, get creative, and see what summer makeup look you can put together for our gorgeous girl here.
Have a great time playing the TikTok Floral Trends online at Prinxy.app!
Game Controls
Use your mouse to browse through all the options in this online game for girls.
If you like this game, you can also try other TikTok Games by Prinxy.app: