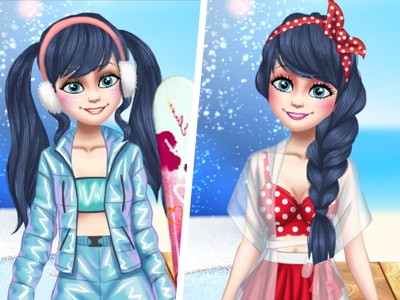 Playing Marinette Winter Vacation: Hot And Cold on Prinxy
The story about Marinette Winter Vacation: Hot And Cold
Beautiful Marinette is getting ready to enjoy a well-deserved winter vacation, and before packing her luggage, she needs to decide where to go! She could hit the slopes in the Alps, or she could go somewhere exotic and lay under the sun all day. In the Marinette Winter Vacation: Hot And Cold game for girls, you help your favorite superhero decide where to enjoy her winter vacation. Get it started, choose a vacation option for Marinette, and then help her pack a few trendy outfits for the chosen destination!
But first, let's find out what your options are. First, you could send this brave superhero to a fancy ski resort in the Alps where she can practice her skiing all day long. Marinette loves this winter sport and she owns some of the chicest waterproof overalls that allow her to practice this adrenaline-rushing sport! Browse through her winter wardrobe and choose from a selection of stylish ski suits, hats, boots, and goggles, the clothing items and the accessories you like the most, and get her ready to hit the slopes in style. Complete her winter look with a bold makeup look in bold colors. Don't forget to also select a pair of skis or a cool snowboard for her as well. Great job, ladies! Are you ready for some more?
Then let's continue playing this online dress up game for girls with a brand new challenge. This time you get to choose a colorful destination for her warmer destination. The Maldives seems a great destination for her to enjoy a beach holiday, so let's help her find the best outfits for a sunny destination. The selection of swimsuits and bikinis, sheer dresses, and beaded sandals are quite impressive, but you can select as many outfits as you wish. Next, take a look at the makeup options available, and complete her look with a colorful makeup look and a new hairstyle.
Hot or cold, the choice is yours! Have a great time playing the Marinette Winter Vacation: Hot And Cold game for girls online at Prinxy.app!
Game Controls
Use your mouse to browse through all the options in this online game for girls
Similar Games
Here are three more Girl Games you should check out: