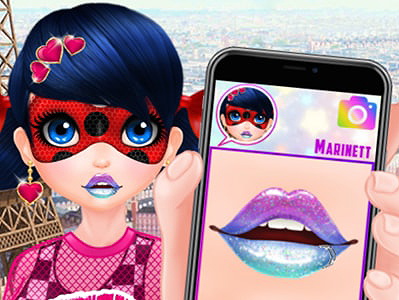 Playing Cute Lip Design For Marinette on Prinxy
The story about Cute Lip Design For Marinette
Elaborated lip design is the new makeup trend on social media, and everybody is talking about it. Talented Marinette started it, and today she's going to show you some of her favorite designs. Come and discover them all in the Cute Lip Design For Marinette game for girls!
Now it's about the time to gear up with patience. Marinette brought ten unique lip designs, and step-by-step she will teach you how to achieve each one of them. In her collection of colorful and bold designs, you will find a wide variety of ideas. Are you ready to take a peek? Together with your favorite superhero, you will create some sweet watermelon sugar lips, rainbow-colored lips, dramatic lips in a dark purple, and some other cool designs that you will discover while playing this online makeup game for girls. Are you ready to start creating your very first statement lip design?
Then simply press the play button and select any card of the 10 available. We've prepared the lip kit, everything that you have to do is to start designing your amazingly colorful and fun lip design. Simply follow Marinette's makeup tips and apply the lipsticks shades on her lips. Depending on the complexity of the chosen lip design, you're going to use less or more colors. Apply the lipstick shades as shown and then finish your design with some cool piercings.
When you've done with the chosen design, capture your creation and post it to Marinette's social media. Then move on and discover a brand-new design. Have a blast playing free makeup games online at Prinxy.app!
Game Controls
Use your mouse to create gorgeous lip art designs in this fun makeup game for girls.
Similar Games
Here are three more Ladybug Games you should check out:
Dotted Girl Back To School
Dotted School Girl Vs Superhero
Ladybug Fashion Autumn In Paris