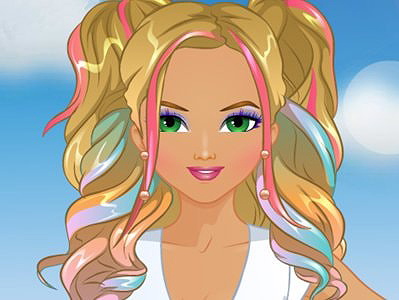 Playing Hair Chalk Hairstyles on Prinxy
The story about Hair Chalk Hairstyles
Festival time came a little late in 2020 but luckily you can still surprise your friends with some jaw-dropping looks. Hair chalk is in trends so you ladies should be prepared to learn more about this colorful hair trend in the Hair Chalk Hairstyles game for girls.
The hair chalk ideas featured here are your golden ticket to instant, jaw-dropping festival hair, so let's create together the perfect summer hairstyle as you continue playing this online hair game for girls.
First, we need to get the hair clean and conditioned. Don't forget to also apply a nourishing hair mask… a healthy and glowy hair is the base of any cool hairstyle. Once you've completed all the steps of a professional hair care routine, you can then go ahead and choose the right style for your hair. Customize your festival hairstyle with girly-girl bangs, tight braids, messy buns, loose curls, and more. You're getting tons of options and you can pick anything you like to build your perfect hairstyle. Great job, not let's get it colored.
On the next page in this online beauty game, you can select the colors you'd like to add in your cool festival hairstyle. There are many chalk colors you can choose from. Pick the ones you like, go crazy, and make your hair as colorful as you want! Keep in mind, using chalk to color your hair is easy and safe, but be aware not to get into a daily hair chalk obsession. While it isn't as damaging as a permanent dye, it does suck some moisture out of your hair, making it slightly more fragile.
Next, make everything pop with the perfect make-up and outfit. Go through all the cosmetics available at your disposal and use your favorites to design a girly makeup look. Then complete your festival look with a chic outfit and a statement pair of earrings. Don't you love your fresh new look?
Have fun playing the Hair Chalk Hairstyles game for girls online at Prinxy.app!
Game Controls
Use your mouse to play this fun game for girls
Similar Games
Here are three more hairstyles games you should check out:
Harley Quinn Hairstyles
Ellie Glamour Hairstyles
Princess Bridesmaids Hair Salon