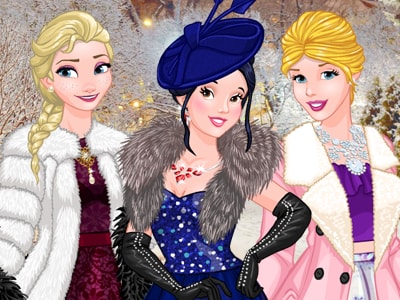 Playing Princesses Welcome Winter Ball on Prinxy
The story about Princesses Welcome Winter Ball
The cold season is here, and these gorgeous Disney princesses plan to celebrate it right! The Snow Queen is in charge of organizing the winter ball this year, and you ladies are invited to help her out! She already took care of all the important details, but she still needs your fashion adviser skills though. Care to help her decide what to wear tonight? Play the Princesses Welcome Winter Ball dress up game for girls, and these three best friends look absolutely fabulous at the annual winter ball!
Every year, Elsa, Cinderella, and Snow White are celebrating the first snow with a welcoming ball. The event takes place in the frozen Arendelle, and everybody is invited to join the fancy party! Everyone is excited about it, and so are our hosts! They've been waiting for such a glamorous event to wear their elegant dresses again, and that is where you can help them out! Get started with the Princesses Welcome Winter Ball game, and begin proving your fashionista skills on Queen Elsa. Her signature color is ice blue but this year she could try something different, what do you think? Take a look through her wardrobe, have her try on baby pink and yellow dresses, and pick the winning one. Then accessorize your selection with an elegant faux-fur coat, a dashing hairstyle, and golden jewelry.
The next in line to discover your amazing styling skills is princess Snow White. This year she's into sophisticated embroidery and beads, so don't be too surprised to discover an impressive selection of strapless dresses covered in beads or elegant embroidered dresses in her wardrobe. Dress Snow White in your favorite ball gown, and don't forget to select a lovely ruffled coat to keep her warm on her way to the ball. Style her hair in perfect curls and complete her outfit with sparkling pieces of jewelry.
Last but not least, help Cinderella find her perfect look, next! There are brightly colored dresses available in her wardrobe, high heeled shoes to match, and even some elegant coats too. Mix and match them in a jaw-dropping look and complete it with sparkling jewelry of your choice.
Have a great time playing the Princesses Welcome Winter Ball dress up game for girls online at Prinxy.app!
Game Controls
Use your mouse to interact.
Similar Games
Here are three more Fashion Games you should play next: