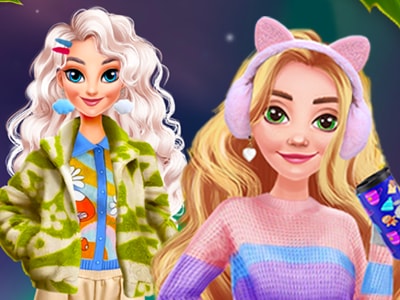 Playing Soft Girls Winter Aesthetics on Prinxy
The story about Soft Girls Winter Aesthetics
A fun winter vacation is everything these 5 BFFs need before getting back to college, but where should they go? They are usually traveling together, but this year they are going to try something else. This year, each of them picked a unique destination for the winter vacay, but they keep themselves updated by sending each other lots of pictures. Are you ready to join the fun? Hit play and get ready to discover the most beautiful winter destinations in this free-to-play dress-up game for girls called Soft Girls Winter Aesthetics.
This online fashion game is a mix of everything that's trending at the moment, and I'm sure you girls are going to love it. The game features five of your favorite princesses this time as soft girls, a wide selection of fashionable clothing pieces and accessories, and some stunning winter destinations that are wow. Winter isn't the most favorite season of many, but our girls are huge fans of it. During the chilly season, our girls pick the highest slopes for practicing their skiing skills and the coziest cottages to relax after that, and you ladies are invited to join the fun! Join Elsa, Rapunzel, Cinderella, Belle, and their best friend Emma in the Soft Girls Winter Aesthetics Dress Up Game for girls and get ready to discover their favorite travel destinations during the cold season!
Your first stop in this winter game for girls is the snow-covered slopes in the French Alps. Here you join gorgeous Emma for a skiing session, and your task is to make sure she's looking great. So let's see what she should wear on this occasion. Fashionable winter gear in soft girls' inspired colors and prints rule Emma's winter wardrobe, and you girls are the lucky ones to discover the latest trends. Among the selection of suits, you also have a selection of two-piece outfits that you put together in matching sets or in mismatched jaw-dropping looks. Once you've decided on the winning outfit, complete her look with a curly hairstyle and accessories of your choice. Great job, ladies! Hopp on a plane and get ready to meet Princess Elsa next!
Princess Elsa traveled to Iceland for the winter holiday, and she's here to witness the magical dance of the Northern Lights. Will you help her look great for her photoshoot? It is going to take place in a mesmerizing place where gorgeous lights change colors behind her. How cool is that? Check out Elsa's cozy-chic wardrobe, have her try on all the outfits you like the most, and pick one to help her stand out while surrounded by the Northern Lights. Are you ready for your next destination? Our princess game is going to take you to Aspen next, where you and Rapunzel are going to discover one of the most beautiful streets and ice skating rings in the city! Aspen is now all covered in bright white snow, and princess Rapunzel can't wait to snap the pictures from here. But what should she wear? Lovely pastel shade and cozy fabrics, cute hats, and gloves will help her to stand out. Are you ready for some more?
Next, you're strolling the icy streets of New York City together with princess Ariel. She is going to have a girly-girl photoshoot in the middle of Central Park, but before that, you have to help her choose her chic outfit. Browse through the wide variety of furry coats, tweed skirts, and accessories, mix them into a colorful look and create a fancy outfit for Ariel to wear today! Complete her soft-girl look with a new makeup look, and then go on, and join Belle, next!
Our winter-themed game wouldn't be complete without a trip to Belle's cozy cottage into the mountains! Cuddled in front of the fireplace and with a good book in your hands, you and Belle are going to have the best time ever. Run your fingers through her fashionable wardrobe inspired by the Cottagecore aesthetics and see what lovely outfit you can pick for Belle's cozy photo session. Finally, save your creation and share it with your friends!
Have a great time playing the Soft Girls Winter Aesthetics game for girls online at Prinxy.app!
Game Controls
Use your mouse to browse through all the options in this online game for girls.
If you like this game, you can also try other Winter Dress Up Games by Prinxy.app: