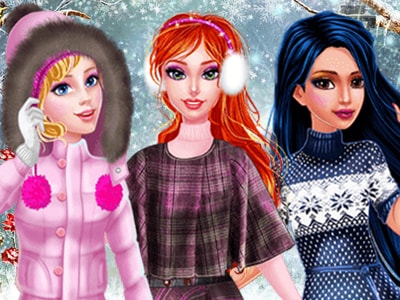 Playing Supermodels Unforgettable Vacation on Prinxy
The story about Supermodels Unforgettable Vacation
Yay, it's finally time for these three supermodels BFFs to take a well-deserved winter vacation. Where do you think they should spend it? Tropical destinations are so mainstream! BFFs Olivia, Lily, and Angie are getting ready for a trip to a place far more special: a snowy village called Winter Land. Join these three princesses on their exciting journey and become their fashion adviser while playing the Supermodels Unforgettable Vacation dress up game for girls online at Prinxy.app!
Pick them up at the airport, rush them to their accommodation, and help them prepare to explore every corner of the village. Oh boy, this winter land is full of fun! There are red carpet events, an ice skating rink waiting to test their abilities, and even snowball fights. The girls are committed to trying them all, and you are here to help them prepare for each activity. Are you ready for this challenging task, girls?
Get started with this brand-new winter game for girls, and begin by selecting the activity you'd like these BFFs to do first. Once the main decision was taken, you can then move on and show off your makeup artist skills next. In this makeup game for girls, there are 20 makeup shades available for each supermodel princess. The professional makeup kit includes lipstick, eye shadow, blush, and mascara that you can mix and match in glam makeup looks, glowing pastel looks, or even in natural looks. Complete the makeup look for each girl and then pick in their winter wardrobe.
Their daily jobs require stunning looks, so don't be too surprised to find many stylish winter clothes and accessories in their wardrobe. Check out the stylish outfits specially designed for winter activities, and select the ones you like the most for each girl, then make sure to also check their selection of elegant gowns that you need for the red carpet event they plan to attend while enjoying their time off in this gorgeous winter land. Continue playing this online fashion game for girls with selecting the right outfit for the chosen activity, and don't forget to also properly accessorize their winter looks with cashmere scarves, gloves, and colorful knitted hats. Next, join the girls outdoors and have a blast playing in the snow!
Have a great time playing the Supermodels Unforgettable Vacation dress up game for girls online at Prinxy.app!
Game Controls
Use your mouse to interact.
Similar Games
Here are three more Supermodel Games you should play next: