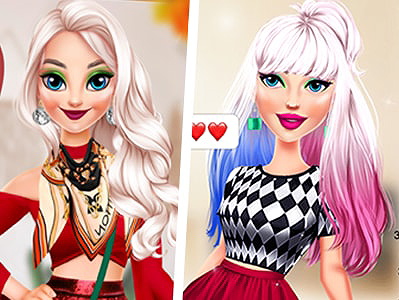 Playing TikTok Fall Fashion on Prinxy
The story about TikTok Fall Fashion
The cold weather days bring a brand new fashion challenge that you ladies are going to love. In this brand-new Prinxy dress-up game for girls called TikTok Fall Fashion, you help 3 of your favorite influencers get their outfits ready to inspire as they compete against each other in the #FallFashion challenge. Are you ready to show your styling skills?
Then let's join the fun getting started with the TikTok Fall Fashion dress-up game for girls and help our influencers choose chic fall outfits for their next viral videos. The first wardrobe you will be discovering in our fashion game is Harley Quinn's. She plans to impress her followers with daring looks in bold colors, and you can help her out. Sequins and stripes rule her fall wardrobe, could you put them together in a jaw-dropping fall outfit? You could choose to dress her up in a sequined crop top that you could pair with an animal printed skirt or some fur-trimmed velvet shorts, or you could go for a tight striped dress. What else to consider? Once you have decided on the final outfit, accessorize it with a colorful designer purse, earrings, and chic eyeglasses. Style up her hair next, and don't forget to deal with her makeup look, too! Harley prefers bold colors for her makeup look this fall, so anything blue or pink would be perfect for our fashionable villain. Are you ready for more?
Belle is the next TikTok influencer to discover your stylista skills in our free-to-play princess game for girls, so hurry up and join her in her dressing room next. Minimalist and comfy-chic would best describe Belle's wardrobe for this fall, and you are going to love it. There are cozy sweaters, and fluffy fuzzy coats to choose from, and an impressive selection of accessories that will perfectly complement her minimal fall outfit. Choose her a new hairstyle as well, and then do her makeup look next. Belle prefers natural colors for her makeup, and you can pick any brown, green, or sweet pink color from her eyeshadow palette. Next, complete her makeup look with a coat of black mascara and matte lipstick in a nude color.
Last but not least, you should be ready to style up Queen Elsa next! Gold, red, glitz, and sophisticated clothing pieces define Elsa's #fallaesthetics. Could you use Elsa's favorites into an effortlessly chic fall outfit? There are lots of jumpsuits and sequined dresses to choose from, and also a wide selection of crop tops, sequined flared pants, and fur-trimmed mini-skirts available at your disposal in our fall game. Browse through them all, have her try the pieces you like the most, and create a jaw-dropping fall outfit for our girl. Complete her fall look with some playful curls and sophisticated makeup look, too.
Have a great time playing the TikTok Fall Fashion game for girls online at Prinxy.app!
Game Controls
Use your mouse to browse through all the options in this online game for girls.
If you like this game, you can also try other TikTok Games by Prinxy.app: