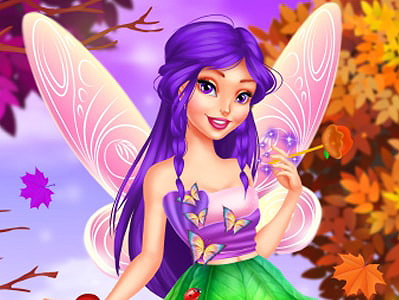 Playing Violet In The Fall on Prinxy
The story about Violet In The Fall
Seasons change, and so does Violet's wardrobe. This time she's getting ready to step in the fall, and she could use your helping hand to do it in style. Play the Violet In The Fall dress up game for girls and see what jaw-dropping fall outfit you can put together for your favorite winged creature!
Violet is one of the most fashionable fairies living in the great fantasy world. She loves keeping her wardrobes updated with the latest trends in fashion, and this time you are invited to put together a pair of outfits that will look great in the explosion of copper, yellow, and orange colors that paint the natural environment in which she lives. But during the rainy season, the real challenge is to keep her fashionable and warm at the same time. So are you ready to surprise her with your styling skills?
Then get started with this brand-new fairy dress up game for girls, browse through Violet's chic wardrobe, and dress her up in your favorite clothing pieces and accessories. There are chic tops beautifully adorned with 3D flowers, lovely skirts to match every top in her closet, and an impressive selection of colorful ankle boots that you can use to pair the chosen outfit. All these clothing pieces are available in an explosion of bright colors that make Violet feel cheerful and cute even on a chilly day of autumn. And that's not all, just wait to see her selection of fall accessories. A pair of glittering, see-through wings are signature items any fairy needs, and umbrellas are a must in fall, so feel free to select the ones you like the most from each category of items. Next, make sure to complete Violet's fall outfit with a new hairstyle. Would you like to see some more from Violet's wardrobe? Then don't skip our invitation and play the Violet Spring dress up game for girls next.
With her outfit perfectly mixed and matched, Violet is now ready to sprinkle some magic in the world and help nature change its colors. Paint the leaves and clouds in lovely fall colors and then help her spot the hidden umbrellas as you continue playing Violet's hidden objects game. Are you already wondering what's coming up next? You get to discover one of Violet's favorite autumn activities: and that's going apple picking! Fill the basket with red apples and then learn how to make caramelized apples.
Last but not least, put together a cozy autumn #flatlay for Violet's social media account! Set something warm and something sweet on a warm blanket and then beautify this cozy flat lay with autumn spices, yummy treats, and flowers.
Have a blast playing the Violet In The Fall game for girls online at Prinxy.app!
Game Controls
Use your mouse to complete all the activities in this online autumn-themed game for girls.
Similar Games
Here are three more Fairy Games you should check out:
Fairy Princesses
Tooth Fairy Lifestyle
Fairy's Magical Makeover