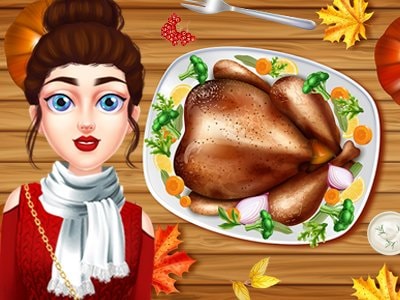 Playing Thanksgiving Party Prep on Prinxy
The story about Thanksgiving Party Prep
Gobble, gobble! It's Thanksgiving Day, and like every year, young Emily is in charge of the Thanksgiving dinner. Her friends and family will start arriving soon, and there are still a few things that need her attention. Will you help her with the last preparations? Join her in getting started with this holiday game for girls called Thanksgiving Party Prep, and help beautiful Emily surprise her guests with a perfect dinner!
First of all, take care of her holiday looks. Fall is Emily's favorite season of them all! She loves autumn scents and colors, and layering her daily outfits is her favorite activity. In this dress up game for girls, you are Emily's personal fashion adviser, and you are allowed to surprise her with a unique look suitable for the Thanksgiving dinner she is getting ready for. For this occasion, she is going to use that selection of clothing pieces and accessories inspired by the pilgrim's clothing. Browse through her impressive collection of sweater dresses, lovely blouses with holiday prints, bottoms, and accessories, mix and match them and put together Emily's look for the Thanksgiving dinner. Complete the chosen outfit with a lovely makeup look in fall colors and a new hairstyle. She looks great, doesn't she? Now, let's help Emily deal with the dinner menu!
She has plenty of delicious dishes on her list this year, so make sure to play this fun cooking game till the end to discover them all. Make sure to wash your hands first, then roll up your sleeves, and let's get the cooking session started. Begin with preparing the flavored butter. It's Emily's secret ingredient for the traditional dinner. According to our amateur chef, butter keeps the turkey from drying out, and it also brings a yummy flavor to the vegetables accompanying the turkey. You girls should follow Emily's cooking instructions step-by-step and learn how to make her signature dish on your own. Great job, ladies! Are you ready for some more? Emily's Thanksgiving dinner wouldn't be complete without the traditional pumpkin pie. She has this recipe from her grandmother, and it has become one of the family's favorite desserts. Emily actually makes this pie very often during the fall, but on Thanksgiving, with all the loved ones together, it tastes better. Steal some tips and tricks from her, and then try this recipe at home with your mommy!
Last but not least, it's time to set up the festive table. Hurry up, Emily's guests are about to arrive! Deal with this designer task as you continue playing this holiday decoration game for girls, and help decorate the table as nicely as you can. Select festive plates and shiny cutlery, choose napkins in your favorite colors, and don't forget to bring the yummy turkey to the table as well. Next, select the side dishes to go with this yummy roasted turkey, and then help Emily write her yearly Thanksgiving note. She made a tradition of writing for what she is thankful for every year. How about you? What are you thankful for in 2020?
Happy Thanksgiving and have a great time playing the Thanksgiving Party Prep game for girls online at Prinxy.app!
Game Controls
Use your mouse to interact.
Similar Games
Here are three more Thanksgiving Games you should check out: