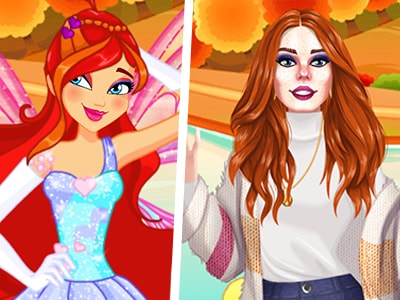 Playing Bloom Fantasy Vs Reality on Prinxy
The story about Bloom Fantasy Vs Reality
Join one of your favorite Winx Club fairies in this online dress-up game for girls called Bloom Fantasy Vs Reality, and see what stunning looks you can put together for this gorgeous red-haired fairy. This cartoon game portrays Bloom in a new and realistic way where the second part of the game is focused on the heroine character from the famous TV series on Netflix. Are you ready to join the fun?
You're starting the fun with the classic Bloom fairy from the Winx Club cartoons. In this first dressing-up session, you join the gorgeous winged fairy at the Alfea school of magic, and here you get to help her choose her looks for a new day. You should start with applying her makeup, then you should help her find herself a new hairstyle, and next, you can dress her up. In Bloom's fantasy wardrobe, you are going to find some of the most colorful fairy dresses that you've ever seen. There are lovely ruffled dresses available in a mix of lovely pastel colors, there are long floor-sweeping prom dresses, there are glitz sprinkled strokings, stunning heels, and an impressive selection of candy-colored jewelry to choose from. Mix and match them as you wish and come up with a colorful outfit for our gorgeous fairy. Then complete her fairy look with a colorful pair of see-through wings. Now, are you ready to discover our heroine from the TV series next?
On the next page of the game, you are going to find the teenager Bloom who is trying to adjust to life in the Otherworld. Here she must learn to control her magical powers, and oh boy, that's super hard for her to do. As a normal teenager, Bloom has a super chic wardrobe ruled by everything trending in stores. She has lots of roller neck blouses to choose from, hoodies, jeans, leggings too! But if you'd like a more feminine look for our girl, then mix and match a flower-printed dress with a chic leather jacket or with an oversized knitted cardigan. Don't forget to do her makeup look next. Before getting the chance to view your creations, you are challenged to complete the makeup step. Can you handle it?
Have a great time playing the Bloom Fantasy Vs Reality dress up game for girls online at Prinxy.app!
If you like this game, you can also try other Fairy Games by Prinxy.app: