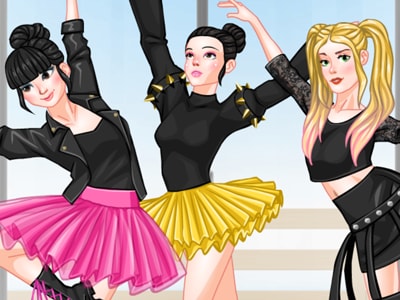 Playing Princesses Rock Ballerinas on Prinxy
The story about Princesses Rock Ballerinas
Help three of your favorite Disney princesses to become the first rock ballerinas to perform in a classical ballet opera. Mulan, Snow White, and Rapunzel are the ones willing to combine clothing pieces and accessories from the rock style with gracious ballet moves, and you are invited to help them dress to impress. Come and join the girls in getting started with the Princesses Rock Ballerinas dress up game for girls and see what stunning rock ballerinas look you can put together for them!
In this online fashion game, you are going to find lots of leather clothing pieces and studded accessories from the rock style that you can blend with gorgeous colorful skirts that are signature items in classical ballet. Mix the clothes from the two extremes, and get unique ballerina looks for each princess. Then accessorize each look with studded biker boots or with candy-colored pointe shoes, with new hairstyles in pastel colors. Then take the makeup artist challenge as you continue playing this online make up game for girls at Prinxy.app. Inspired by the #egirl TikTokers the makeup options available at your disposal in this online game will give you a hard time picking the winning one. The options feature smokey eyes, bold lipstick colors, and temporary face tattoos that perfectly complete their bad girls' look. Don't forget to also browse through the wide variety of cool accessories and choose the right ones to complement their rock ballerinas looks.
Have a great time playing the Princesses Rock Ballerinas game online at Prinxy.app!
Game Controls
Use your mouse to interact.
Similar Games
Here are three more Princess Games you should play next: