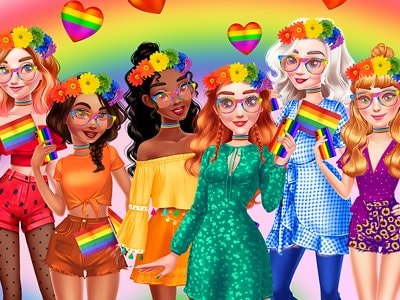 Playing Pride Rainbow Fashion on Prinxy
The story about Pride Rainbow Fashion
It's International Pride Month, and to showcase their support for the LBGTQ+ community, six of your favorite Disney Princesses are going rainbow-colored for the entire month. With the right clothes picked and colorful accessories, they are going to attend the Pride Parade, and you are invited to help them do it in style. In the Pride Rainbow Fashion dress-up game for girls, you help the girls choose rainbow-colored outfits to wear at the upcoming Pride Parade. Are you ready for it?
June is Pride Month when the world's LGBT communities come together and celebrate the freedom to be themselves. Clothing brands, both big and small, turn rainbow-focused to show their support during Pride month and everyone outside the LGBT community is welcome to join the celebrations. In this online dress-up game for girls, you are joining six Disney girls who want to attend the Pride parade in style, and you need to help all of them choose an awesome dress or a chic outfit as you browse through their rainbow-colored wardrobe! So let's get it started and meet the six girls supporting the LGBT community.
The Frozen sisters, Rapunzel, Tiana, Merida, and Moana are the six princesses who can't wait to give up their royal dresses and replace them with rainbow-colored dresses and statement accessories. In this free-to-play fashion game, there's representative color for each girl's wardrobe, and to discover it, you are challenged to advance from one unit to another. Be ready to discover our impressive selection of summer dresses, flower printed tops, shorts, skirts, and jeans as you dress up each Disney girl in one bright shade inspired by the colors of the rainbow. Mix and match your favorite clothing pieces in jaw-dropping pride outfits, and then simply accessorize the winning outfit with a summery hairstyle, colorful accessories, floral headbands, and a striped flag. Next, capture a photo of your creation and share it with your friends! Spread the love!
Have a great time playing the Pride Rainbow Fashion game for girls online at Prinxy.app!
Game Controls
Use your mouse to browse through all the options in this online game for girls.
If you like this game, you can also try other Princess Games by Prinxy.app: