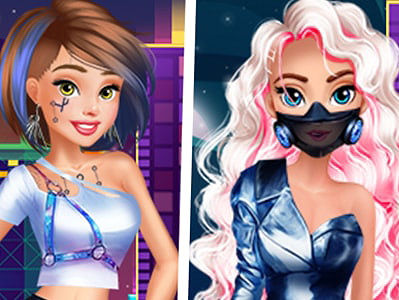 Playing Cyberpunk City Fashion on Prinxy
The story about Cyberpunk City Fashion
Four Disney princesses find themselves in the Cyberpunk City, and oh boy, they like it here! They need to find the perfect looks to blend in, and you ladies are challenged to help them out. In this brand-new dress-up game for girls called Cyberpunk City Fashion, you can put all your fashion knowledge to the test and help the stunning BFFs mark their entrance into the grunge city looking in style. Are you ready to get started with this task?
But first, let's meet the four best friends taking over the Cyberpunk City! Belle, Ariel, Moana, and Elsa are willing to give up their stunning princess dress and have the full cyberpunk experience in this Prinxy.app game for girls. Surrounded by futuristic neon lights, the royal BFFs wait for you to join the fun and help them decide on the winning looks. Are you ready to join them in the Cyberpunk City Fashion game?
The first princess you are going to style up today in our online fashion game is princess Belle. She's going for urban techwear and functional clothing pieces that include many sportswear items. Belle's wardrobe includes lots of baggy pants, cropped hoodies, skirts, and leather jumpsuits that you can match with boots and oversized glasses. Next, complete Belle's cyberpunk look with a new hairstyle that you can customize with strands in neon colors. Great job, ladies! The next princess in line to discover your amazing fashion skills in this free-to-play princess game for girls is gorgeous Ariel. She always wanted to wear steampunk clothes, but they never seem a good fit with her life at the castle. Today is her chance to get her hands on all those stunning dresses inspired by the Victorian era but with a modern twist that make them perfect for her girls' trip to Cyberpunk City. In steampunk fashion, corsets are more of a clothing item than an undergarment, and you are going to find lots of them as you browse through Ariel's wardrobe. The selection of corsets available in Ariel's steampunk wardrobe are adorned with ruffles, studs, zippers, or belts, and can be matched with long skirts, Lolita-inspired skirts, leather leggings, or shorts. Corsets are also available in the huge selection of dresses, so make sure you also take a look here. Pick your favorite clothing piece to dress Ariel up, and then finish her cybergirl look with a pair of knee-tall boots, brass goggles, and metallic handbags.
Are you ladies prepared for some more? In the third level in this brand-new dress-up game for girls, you're meeting princess Moana. She's an expert in summer clothing, so she's going to take your fashion advice this time. In the Cyberpunk City Fashion game, tactical clothing pieces and military uniforms rule Moana's wardrobe. Chic and comfy at the same time, adorned with many belts, oversized pockets, or with metallic inserts, Moana's casual tactical clothes are to die for. Have her try on all your favorites before deciding on the final look, and then make sure to accessorize it with some cool body and face tattoos. When you are happy with your final pick, press the button done and rush to discover Elsa's wardrobe next. Queen Elsa is into neon colors today, and with your help, she'll get herself a jaw-dropping cyberpunk outfit. Mix and match your favorite tops with the right bottoms, or dress her up in a plastic dress, and then complete her look with metallic boots and aluminum accessories.
When you're done, save your creation and share it with your friends too! Have a great time playing the Cyberpunk City Fashion game for girls online at Prinxy.app!
Game Controls
Use your mouse to browse through all the options in this online game for girls.
Similar Games
If you like this game, you can also try other Princess Games by Prinxy.app: