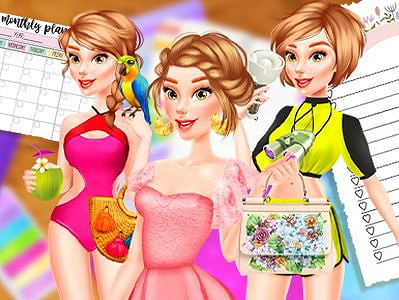 Playing My Perfect Year Planner on Prinxy
The story about My Perfect Year Planner
Belle has decided to make 2021 her best year ever, so even from the first days of the new year, she made a shortlist of resolutions. She has a perfect plan for the New Year, but she needs your help to stick to it. Will you help her out? Join her in getting started with My Perfect Year Planner dress up game for girls, and help princess Belle get into her new lifestyle as she discovers 12 unique activities that are listed on her planner.
But, first thing first! Belle knows that planning the activities is the first step in making them come true. This year each month will be a new adventure. Are you ready to discover how she is going to spice up her days? Then tap the 'Next' button, spin the wheel and get her ready for the first fun adventure. We know some of Belle's resolutions might be some of yours too, and this will make this online princess game even more fun to play. So if you're planning to spend some more time at the gym or exploring nature, or if you also want to take some cooking classes, or if you hope to live the hot air balloon full experience, then My Perfect Year Planner is the game for you ladies!
The latest clothing pieces and accessories were packed in this fashion game! Among the wide variety of clothes, you can find some of Belle's signature items such as her yellow princess dress but this time in modern lines, or chic rose printed tops that you can pair with skirts, jeans, or capri pants. Belle is a true fashionista at heart who needs to keep her daily looks up to the latest trends, and here is where you can help her out. The best part? This online dress up game for girls can also serve you as inspiration if you're looking for new outfit ideas to wear when gardening, when going swimming, or when skiing in Aspen. Belle never misses an opportunity to stand out, and you can learn from the best how to do it!
Here is how to play it! Tap the diary on the planning and wait for the wheel to spin. When it stops, you get to discover one of Belle's resolutions and a wardrobe filled with all the clothes, jewelry, and accessories you might need to help her look great while learning a new skill. Then, browse through her wardrobe, mix and match the clothing pieces you like the most with the right accessories, and dress her up for the given activity. Don't forget to style up her hair for a completely new look. Return to the wheel, spin again, and create another stunning #ootd for our beautiful princess. Don't stop until you've managed to complete all the twelve looks in this online dress up challenge!
Have a great time playing My Perfect Year Planner dress up game for girls online at Prinxy.app!
Game Controls
Use your mouse to interact.
Similar Games
Here are three more Princess Games you should play next: