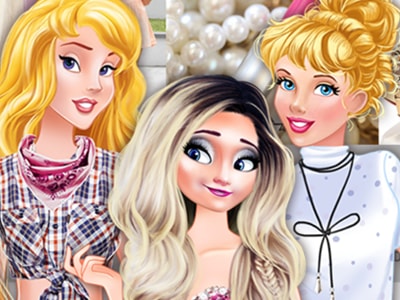 Playing Princess Style Vlog: Tips For Blondes on Prinxy
The story about Princess Style Vlog: Tips For Blondes
Hey, you all the blondes out there! Four of your favorite Disney girls have some amazing princes style tips to share with you today and they can be found in a brand-new, gorgeous video. Are you ready to discover all their beauty tricks in the Princess Style Vlog: Tips For Blondes game for girls? Let's get it started!
This time, the Disney princesses came with a new vlog where they share with everybody some fashion tips for blondes. Cinderella, Elsa, Rapunzel, and Aurora will give all the blondes out there some style advice on makeup and outfits. But first, let's discuss makeup. According to these royal beauties, brown mascara is the best option when you want to achieve a natural look. You should also keep in mind that blue, silver, or brown eyeshadow flatter their eyes and that blondes should always avoid using orange lipstick. Following these beauty tips, create a flawless makeup look for our beautiful vloggers as you hit the next button in this online make up game.
Are you ready for some more? Then let's continue playing this cool dress up game for girls and get ready to discuss fashion tips next. Blonde-haired girls look stunning in power red, but navy blue, charcoal, and deep brown always look gorgeous on blondes. The rule is simple: make sure to pick bold colors for bold blondes. Knowing these tiny details, dress up Rapunzel and Elsa in your favorite cocktail dresses or two-piece smart casual outfits, tops, jeans, and unique overtops. Use high heeled shoes, sparkling jewellery, designer bags, and even new hairstyles to complete their outfits of the day.
When you're done, simply hit next, upload your vlog, and surprise your followers with a cool new video. Have an amazing time playing the Princess Style Vlog: Tips For Blondes game for girls online at Prinxy.app!
Game Controls
Use your mouse to complete all the activities in this online game for girls
Similar Games
Here are three more Princess Games you should check out:
Ellie Beauty Tutorials
Ellie Lip Art Blog Post
Villain Blogger Around The World