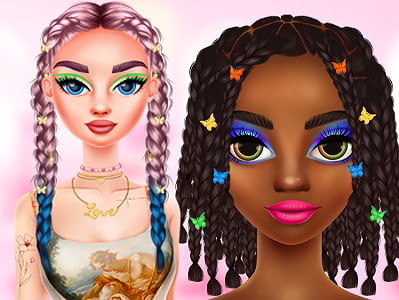 Playing TikTok Braided Hairstyles on Prinxy
The story about TikTok Braided Hairstyles
Hello there, TikTok trendsetters! Do you want to try out some new hairstyles that are super popular on TikTok? We've got the perfect game for you! TikTok Braided Hairstyles is a themed hair game that features some of the coolest braided hairstyles on TikTok. Play today!
But before you get it started, let me tell you more about it! This new hairstyling game features the coolest braided hairstyles on TikTok. In this game, you will transform two of your favorite Clony girls' looks, Regina and Kiki's, by creating their favorite braided hairstyles. Who's ready for a new hairstyle? How about six?
First, you can choose between two characters, Regina and Kiki. Then, you get to choose from six amazing hairstyles that have been designed by TikTok hairstylist Brian. Check out the dutch braids, Senegalese braids, jumbo braid goddess ponytail, box braids, braided space buns, and crown braids that our characters, Kiki and Regina, are wearing in this hair game! Then, you'll continue by washing your chosen character's hair. Once it's squeaky clean, you'll get down to the good part: styling the hair! You'll do so in a few easy steps. Follow Brian's instructions and you'll be just fine. Afterward, you can accessorize it by choosing some cool clips or ribbons. You can also change the hair color to make it uniquely yours!
Then deck out Regina or Kiki in stylish clothing and accessories to match their new look. Browse through their wide selection of crop-tops, front-tied t-shirts, suit jackets, or printed cotton bodies, and pick the ones you fancy the most to dress the girls up with while you continue playing this online dress up game for girls. Next, pair the chosen outfit with statement accessories such as flower crowns, multi-layered chains, earrings, and pierces.
Have a great time playing the TikTok Braided Hairstyles online at Prinxy.app!
Game Controls
Use your mouse to browse through all the options in this online game for girls.
If you like this game, you can also try other Hair Games by Prinxy.app: