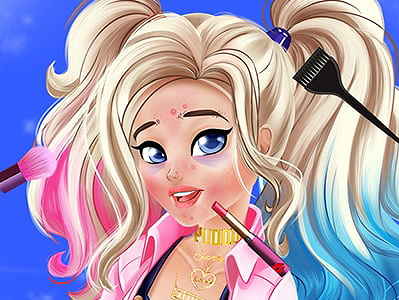 Playing Extreme Makeover: Harley Edition on Prinxy
The story about Extreme Makeover: Harley Edition
What do you get when you cross a villain with a beauty guru? One of the best makeover games which you have played so far! Get ready to join miss Harley Queen in her total transformation from a fierce villain into an adorable tween as you play the Extreme Makeover: Harley Edition game for girls online at Prinxy.app!
Extreme Makeover: Harley Edition is the third game in our hit series of Extreme Makeover games, and this time it's even better! With updated graphics, new challenging tasks, and lots of beauty tips and tricks, in the Extreme Makeover: Harley Edition you witness the complete transformation of one of the most iconic villains of all time, who also wants to be pretty. So what better way to show her how much we love her than by giving her an Extreme Makeover?
The game starts with you giving her complexion a glowing boost with the right beauty products and creams. Use a cleanser to begin the morning routine, then pop those red pimples, and use a professional tweezer to shape her eyebrows. Apply a citrus mask to her face and a layer of lip balm to hydrate her lips. Getting into Harley's skincare routine requires some extra time because there are so many products she likes to use, but the best part is that you get to do all this while learning some great beauty tips and tricks—because who doesn't love learning something new while playing online makeover games?
The game continues with you removing her signature colors from her hair and then working on her makeup. Follow the step-by-step instructions provided in our hair game to complete the hair care routine, style it up in playful beach waves or a romantic braided ponytail, and then decide if you'd like to dye it in a new color or you'd like to leave it golden bright. Great job, ladies! Now, how about some makeup?
Start playing the makeup game by selecting the best foundation shade and concealer for our gorgeous Harley. Next, apply a highlighter as well, and then start playing with the variety of colors available in her makeup kit. Warm brown shades, bold mixes of green and purple, or pastel shades are some of your options in terms of eyeshadow colors. Choose the ones you like the most, and then complete Harley's eyes makeup with black mascara. Browse through her selection of lipsticks next, and then complete the new makeup look with a nice blush shade.
After you are done with the makeup session, you can then choose from different outfits for her to wear while she gets a professional manicure. Dress her up in something girly-girl and super colorful so she can strut her stuff through the streets of Gotham City. You can even make sure she has the perfect accessories!
Have a great time playing the Extreme Makeover: Harley Edition online at Prinxy.app!
Game Controls
Use your mouse to browse through all the options in this online game for girls.
If you like this game, you can also try other Makeover Games by Prinxy.app: