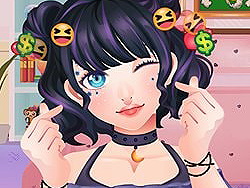 Playing Streaming Makeover on Prinxy
The story about Streaming Makeover
This beauty mogul is getting ready to do another live streaming and you girls shouldn't miss it! Step behind the camera getting started with the Streaming Makeover game for girls and turn her beauty video into a viral story.
Jenny's beauty streamings are usually complex and sprinkled with many tips and tricks. In them, she covers all the steps of a long-lasting makeup look, she promotes must-have beauty products that promise to hide skin imperfection, and she also teaches her followers how to do professional makeups at home. She's great at this and her followers never miss their online date. Are you ready to join the fun?
In this online makeover game for girls, you are Jenny's assistant and together you two girls create an easy to follow daily beauty routine for your audience. But first thing first, Jenny's face could use a little bit of preparation before the makeup session. Use a delicate filler to fade the fine wrinkles and then apply a thin layer of primer that will hide the dilated pores and blackheads. That's magic! With the right products, her complexion can look flawless and even younger than it is. Keep this trick in mind ????
Next, let's help her do her makeup. Start by applying a medium to high coverage foundation, a thin coat of concealer under her eyes, and some fixing powder. Continue with shaping her eyebrows, add a natural blush color on her cheekbones, and then color her eyelids with your favorite eyeshadow. Learn how to draw a perfect cat eye in black eyeliner and finish her makeup with black mascara and bold lipstick color. Sprinkle some setting spray all over her face to make sure her makeup will resist better during the day. Aye ???? and just like that there's another beauty tip for you! Now you're about to get all her dressed up in a trendy top of your choice. Have her try on the ones you like and accessorize the winning one with a layered necklace and a girly-girl hairpin.
There is more! You are now challenged to put your interior designer skills to the test and decorate the perfect setting for Jenny's beauty video. Believe it or not, a nice background makes half of the views, so prettify Jenny's room as nicely as you can. There are many pieces of furniture and girly-girl decorations to choose from… scan through them all, pick your favorites, and create a cozy or modern design with paintings, lights, photos, and flowers of your choice.
When you're done dealing with all these tasks, go live and enjoy the streaming with her followers. Have a blast playing online makeover games at Prinxy.app!
Game Controls
Use your mouse while you help our influencer to complete all the beauty steps in this online makeover game for girls.
Similar Games
Here are three more beauty games you should check out:
Extreme Makeover
Ellie Morning Routine
My Fresh Start Makeover