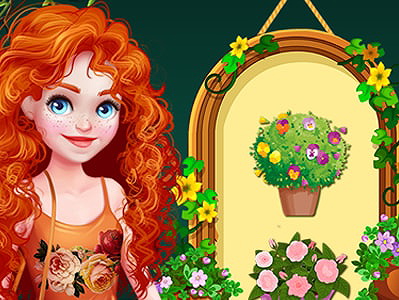 Playing Home Decor: Indoor Jungle on Prinxy
The story about Home Decor: Indoor Jungle
The indoor urban jungle trend is huge right now, and it's trending everywhere on social media. Pictures and videos of rooms adorned with lots of plants flooded Pinterest, Instagram, and TikTok. This home trend made it to Prinxy.app too, and the bravest princess of them all brought it! Merida lives in the big city now, but this plant lover misses being close to nature, so bringing a tiny bit of the jungle indoors seems like a fun challenge. Come and get started with the Home Decor: Indoor Jungle game for girls and help her with this designer task!
Spending the day surrounded by plants brings lots of health benefits. Besides the fact that they absorb carbon dioxide and release oxygen that freshens up the air and eliminates harmful toxins, studies have shown that indoor plants improve concentration and productivity, reduce stress levels, and boost your mood. It is also a well-known fact that being outdoors and spending time watching nature helps us feel more relaxed and calm, so why not enjoying these benefits all day long? Roll up your sleeves, ladies, and let's help princess Merida enhance her life in the big city with green plants and bloomed flower pots around the house!
In the Home Decor: Indoor Jungle game for girls, you are helping our #planetlover decorate her home to make an indoor jungle. You're starting with the living room, the place where she spends a lot of time when she's at home, and then you continue decorating her kitchen. As a bonus, Merida will reward your efforts with two special lessons in which she will teach you how to take care of the plants in your house. With the right teacher, anyone can learn to love gardening! Are you ready to start your private gardening session with your favorite Disney princess?
As we mentioned above, the first design task you need is to turn Merida's living room into a temperate rainforest. Merida's living room is already cozily decorated with a comfy couch and a trendy coffee table. Next, you can prove your interior designer skills and select the lovely plants that are going to freshen up this room. Browse through all the decoration tabs and choose the mix of plants that you like the most. There is a huge variety of hanging flowers on the wall to choose from and also bloomed flower pots that you can put in the window. Then animate the room with a big aquarium and birdcage hosting a pair of colorful parrots. Did you know that Merida loves hydrangeas the most? This light purple flower reminds her of her mother's garden! Unfortunately, her flower is not doing well! It needs some attention, so next, she's going to teach you how to take care of it. Remove the flower from the small pot, add some fresh soil into a bigger pot, and plant Merida's purple hydrangea again. Clean up the leaves and pour some fertilizer next. Thanks to your help, the flower is doing much better!
Great job, ladies! Let's continue this online home makeover game by decorating Merida's kitchen next! She dreams of turning her kitchen into a tropical rainforest. With the right flowers and plants, you can get fresh and moist air for her kitchen, just like the one in the jungle. Browse through all the tropical plants and pick the ones you like the most to decorate Merida's kitchen. Then be ready to attend her next plant care session. Her loved ficus is in trouble. Little red bugs are eating its green leaves, and you two girls need to take care of those nasty pests.
Last but not least, help Merida make a Pinboard were to show other plant lovers her jungle! Choose a theme, snap some pictures, and upload them to social media! Have a great time playing the Home Decor: Indoor Jungle interior designer game for girls online at Prinxy.app!
Game Controls
Use your mouse to interact.
Similar Games
Here are three more Decoration Games you should play next