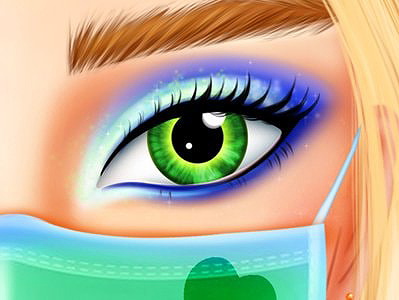 Playing Ellie: Maskne Face Care on Prinxy
The story about Ellie: Maskne Face Care
Maskne is the new acne, and together with Ellie, you will learn how to keep it under control! Come and join our girl in this free-to-play makeover game for girls called Ellie: Maskne Face Care, and learn from the famous skincare guru how to deal with your own acne as together you complete Ellie's acne routine!
Caused by a mix of sweat, cosmetics, and contact with a face mask that prevents the skin from breathing, maskne is here to complicate our lives even more. So if you're also facing breakouts from wearing a mask, you're not alone. Gorgeous Ellie has been facing it since last summer, but luckily she learned what beauty products and cosmetics to use and how to keep it under control. Get started with the Ellie: Maskne Face Care beauty game for girls, and step by step discover her Korean-inspired minimalist skincare routine. Then be prepared to learn some of her makeup tricks too! Because of the coronavirus, she will continue wearing the mask every day, but she knows exactly how to pair her eyeshadow with the face masks she's wearing. Are you curious to learn more?
Ellie's daily beauty routine begins with a cleansing step that is very important when dealing with maskne, and she never skips it. She learned that using fewer products is better for her skin, so she keeps to a minimum the number of the products involved in the cleansing routine. So come and join Ellie in her pink bathroom, and together complete the cleansing step, one of the most important steps in this makeover game! Apply a delicate oil cleanser all over her face, and then rinse it off with warm water. Next, apply a balm cleanser and use the cleansing brush that will deep clean her pores. With two cleansers and a professional brush, you could reduce the irritation on Ellie's face, but there's still some work to do. Apply a calming sheet mask on her face and let it stay for a couple of minutes, and then use a jade roller to massage her face. This will help a faster absorption of the products in her skin. And with this last step, Ellie's daily beauty routine is complete.
Now let's discover her makeup tricks next! Start with applying sunscreen all over her face. This is one step she never misses when dealing with her makeup look, and it's also a lesson you shouldn't forget. Get used to applying sunscreen regardless of the season. Your skin will reward you with a healthy look and a natural glow. Then apply a highlighter on the top of her cheekbones, some drops of foundation on her forehead, eyes, and cheekbones. Use a brush to distribute the foundation, then apply a nourishing lip balm on her lips, and continue with the makeup application.
In this online makeup game for girls, we are focusing more on Ellie's eyes. She's getting ready to go out, so half of her face will be covered by a colorful mask. She never uses heavy makeup under the mask, and this is to avoid her maskne breakout getting worse. But that doesn't mean you can't go crazy with the colors you use on her eyes. There are plenty of options in Ellie's makeup kit, so pick the eyeshadow color you like the most. Then choose a nice blush color for her cheeks, shape her eyebrows, and complete Ellie's half-face makeup with some mascara. This type of makeup is one of Ellie's greatest tricks, and you girls should borrow it and apply it in real life as well.
She's almost ready! She just needs a new fabric mask to keep her safe while being outdoor during the coronavirus pandemic, and you get to pick which one to use today! Have a great time playing the Ellie: Maskne Face Care makeover game for girls online at Prinxy.app!
If you like this game, you can also try other Makeover Games by Prinxy.app: