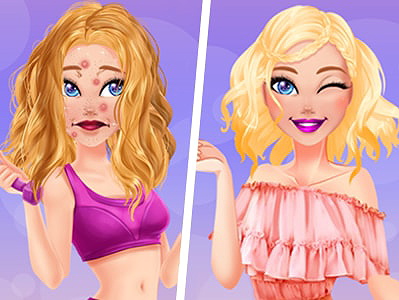 Playing Extreme Makeover: Ellie Edition on Prinxy
The story about Extreme Makeover: Ellie Edition
The wait is over! The sequel of our hit game Extreme Makeover is here and this time even better! With updated graphics, new challenging tasks, and lots of beauty tips and tricks, in the Extreme Makeover: Ellie Edition you witness the complete transformation of one pretty girl. Are you ready to give it a try?
This time you are going to join teen Ellie to many exciting beauty places where the miraculous transformations happen. The Extreme Makeover: Ellie Edition game is going to take you into a multileveled makeover experience in which our pretty girl transforms herself into a stunning and elegant young lady. All you need to do is to hit the play button and start the long road of a complete transformation with a first task.
Your amazing work of transforming this pretty girl begins with a morning routine that includes thorough teeth brushing and whitening. Use the proper utensils to bring back the dazzling white smile to her face and then complete the oral care session with a lip care routine. Applying a nourishing lip balm is mandatory if you want her lipstick to resist longer, don't skip this step. Next, guide her through a short but effective stretching and then continue Ellie's total transformation with one new task that awaits for you. Wondering what's coming up next?
Click the third bubble on the beauty map and get ready to complete all the steps of Ellie's hair care routine. As her hairstylist, get her hair untangled, washed, and conditioned. Blow-dry it and then surprise Ellie with brand-new hair color and a chic new hairstyle. The beauty when playing online hair games is that you can express yourself and go as crazy as you want. For example, Ellie's signature hair color is golden blonde but in this game, you can dye it in any new color you want. There are both sweet pastels and bold colors to choose from, and you can mix the colors as you wish! Are you ready for some more?
Then be prepared to complete one of the most complex tasks in this multileveled makeover game for girls. It's time to prove your beautician skills and get rid of the nasty acne covering Ellie's beautiful face. No worries, this beauty task is pretty similar to the one you've already experienced in the Extreme Makeover game… except this time, the cosmetics you're using are better. Complete all the steps of her professional facial treatment, pop out the pimples, and nourish her skin so that it looks healthy and glowing.
Her face is ready now to get spoiled with a colorful makeup session. Hit next, dare to open her professional makeup kit, and go crazy playing with all those amazing makeup products. Create cute makeup looks with the different colors available and don't stop until you're happy with the final result. Go ahead and see if you can complete Ellie's next challenge. It looks like her hands are a little irritated and her nails are a disaster… but that's something that a hands spa session and a talented manicurist can handle - don't you agree with me, ladies?
Last but not least, you get to choose Ellie's outfit of the day. Dive into her girly-chic wardrobe and have a blast browsing through all those amazing dresses, feminine tops, and chic skirts. Help her try on all the combos you like the most and then choose the winning outfit to dress her up for the day. Accessorise it for a complete look.
And that's a wrap! She looks amazing! Snap a picture of your creation and decorate it with cute stickers and funky filters. Have a blast playing the Extreme Makeover: Ellie Edition game for girls online at Prinxy.app!
Game Controls
Use your mouse to complete all the activities in this online makeover game for girls
Similar Games
Here are three more Beauty Games you should check out:
Streaming Makeover
Ellie Morning Routine
My Fresh Start Makeover