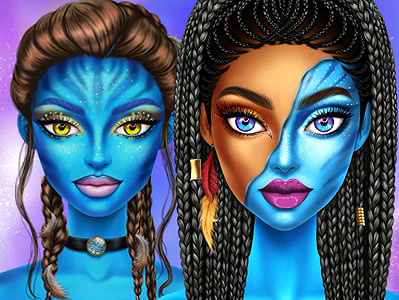 Playing Avatar Make Up on Prinxy
The story about Avatar Make Up
Take your makeup skills to the next level with this Avatar-inspired makeup game! Olivia, Rose, and Ashley will attend the premiere of Avatar's new movie tonight, and they want to get their makeup look inspired by this film's vibe. Come and help them with their stunning makeup while playing the Avatar Make Up Game for girls!
The new Avatar movie is set to be an exciting and visually stunning cinematic experience, and with our exclusive makeup game, the experience will go beyond the big screens. Are you ready to explore the planet Pandora in a more fashionable, girly girl way? Then come and get started with the Avatar Makeup Game for girls, and be prepared to create the perfect looks for our beautiful avatars.
In this fun girl game, you will experience hundreds of makeup options, from classic lipsticks to wild glitter eyeshadows. Unleash your creativity and explore the vibrant colors and patterns of the Avatar world as you start creating a one-of-a-kind makeup look for beautiful Rose. She is the first example of how Avatar-inspired makeup can make any look unique and fun. With this makeup game, you can create your Avatar-inspired look and show off your creativity. Rose requested a complex makeup look for her eyes, so you should focus on highlighting her blue eyes with your favorite shades of blue, glitter, and mascara. Then you can complete her makeup with blue or purple lips and some cool accessories. Are you ready to discover the next vibrant makeup look?
Next up on the catwalk is Olivia, and you get to work on a full face and neck look for her. Choose her eyeshadow and lipstick, then focus on getting her face covered in a sophisticated design. I used a metallic blue for her eyeshadow and powdered pink lipstick on her lips. This was one of my favorite looks, but you can be bold and go for blue lipstick, and sophisticated makeup looks for her eyes.
Last but not least, we have Ashley. She's going for half-face and neck makeup. How cool is this? You have everything you need available in Ashely's makeup kit, so feel free to try everything you like before deciding on the winning look. With this makeup game, you'll get a true Avatar experience – so get creative and become an Avatar makeup expert!
Have a great time playing the Avatar Make Up game online at Prinxy.app!
Game Controls
Use your mouse to browse through all the options in this online game for girls.
If you like this game, you can also try other Makeup Games by Prinxy.app: