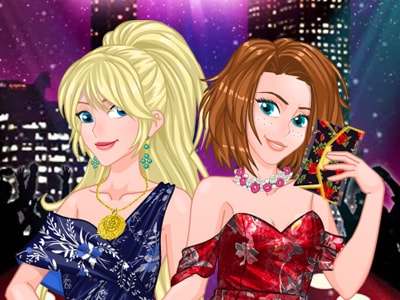 Playing Top Model Sisters on Prinxy
The story about Top Model Sisters
The Frozen sisters have been invited to attend an important fashion event, and they aren't quite ready for it. Can you help them put together their stylish outfits? Play the Top Model Sisters dress up game for girls and help Elsa and Anna steal the spotlights when walking down the runway!
The two pretty sisters from the little kingdom of Arendelle are getting ready to hit the world's most famous runways in this online girls game. They've been dreaming about modeling careers for years, and this is their chance to step on the runway looking in style. Catwalks from Milan, Paris, London, New York are already prepared for them but becoming a top model is not that easy. So let's help them to make a good impression!
Get started with this fun princess dress up game, become a fashion stylist for these top model sisters, and join them learning their famous sassy catwalk. But first, let's deal with their runways looks. Browse through the wide variety of floor-sweeping dresses, short mini-dresses, sheer and lace shirts, mini-skirts, and shorts, select the ones you like the most, and put together a pair of outfits that will look great on the catwalk. Next, pair the chosen outfits with heels, statement jewellery, and then finish their runway looks with new hairstyles. Are you ready for some more?
They will also need your help preparing for an extravagant photoshoot in this online dress up game for girls! Have a great time playing the Top Model Sisters game online at Prinxy.app!
Game Controls
Use your mouse to browse through all the category tabs in this online dress up game for girls!
Similar Games
Here are three more Frozen Games you should check out:
Sisters Villain Style
Sisters Winter Escape
Sisters Fall Fashion Guide