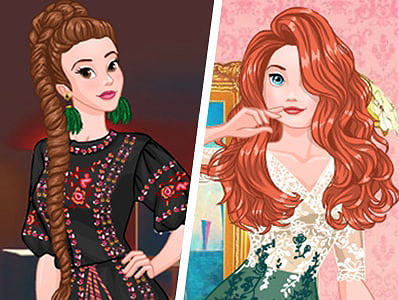 Playing Princesses Fashion Wars: Boho Vs Gowns on Prinxy
The story about Princesses Fashion Wars: Boho Vs Gowns
Watch out! There's going to be a fashion war! Boho chic and glitzy gowns enter the battle today. Which style do you think it's going to win? Let's find out in the Princesses Fashion Wars: Boho Vs Gowns dress up game for girls!
Our young fashionistas, princesses Belle and Merida, are keen on absolutely different clothes. While one loves sporty chic, the other is all in for sequins and lots of glitters. One loves sneakers and wedges while the other can't have enough of high heels. The dispute between their different fashion styles is under the spotlights and today they're going to find out who has a cooler style. You talented girls can help them out. In this online dress up game, you are their fashion adviser and you can decide on the clothes they will wear in front of the jury. Are you ready to give it a try?
Hit the play button to join them in and be prepared to discover who's the first in line to discover your unique styling skills. This princess game begins with a quick raid in Belle's amazing wardrobe. Even at first glance, you will notice that she prefers boho and hip-hop clothes, the last one making her feel sporty and cool at the same time. But wait to see the variety of clothes in her wardrobe... it is quite impressive! In addition to mini and midi embroidered dresses, you can also find some chic sweatpants, t-shirts, and sweatshirts with trendy messages, sporty bra tops, and more. When it comes to accessories, Belle is the lucky owner of the coolest shoes on the market. Simply select a pair that matches the chosen outfit. Next, complete everything with jewellery and a new hairstyle. Are you ready for some more?
Then feel free to take a peek in Merida's wardrobe, too. Continue playing this online fashion game for girls, browse through Merida's wardrobe, and see what cool look you can put together for our brave girl. She just loves elegant gowns and dazzling cocktail dresses, her jewellery is all beaded in precious stones and her high-heeled pumps are designer labeled. She's a brand-new person when wearing such clothes and she sure feels like she's a movie star.
Take all the time you need and have a blast helping the two princesses choose the best outfits for the fashion competition. Don't stop until you are happy with the final result. A new fashion battle is about to begin… who's going to be our winner?
Have an amazing time playing the Princesses Fashion Wars: Boho Vs Gowns online at Prinxy.app
Game Controls
Use your mouse browse through all the options in this online game for girls
Similar Games
Here are three more Princess Games you should check out:
Princesses K-pop Idols
Princesses Pretty In Floral
Princesses Fashion And Dare Challenge