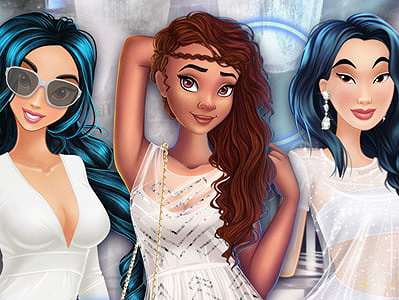 Playing Princess All White Night Party on Prinxy
The story about Princess All White Night Party
One exclusive party and three VIP guests all in one place. Can you help the girls decide what to wear to a party where the only rule for the guests is to wear all-white outfits? Join them in getting started with the Princess All White Night Party game for girls and get them glammed up in high fashion and stunning accessories!
This all-white party is a glamorous event that takes place once a year. It's one of the most expected parties and our fashionistas wouldn't want to miss it for anything in the world. This year, the main theme is going to be white color. Everyone invited has to be dressed in white, and it's a pretty tough challenge to stand out in front of the crowd. But not for Jasmine, Moana, and Mulan! It's time to prove their sense of style to everyone. Will you help them out?
Join the girls in getting started with this brand-new princess dress up game and see what sparkling white looks you can put together for these BFFs getting ready to attend the most exclusive party of the year! In their wardrobe you can find the most spectacular all-white clothing pieces and accessories that you've ever seen, so feel challenged to put them together in jaw-dropping party outfits. There are chic party dresses, bohemian ruffled midi-dresses, there are elegant floor-sweeping dresses, and as well an impressive selection of lovely tops that you can match with suit shorts, white jeans, or with trendy skirts. Dress the girls up and then see how you can accessorize the chosen clothes.
When it comes to accessories, the options you are going to find in their wardrobes are going to add so much chicness to their outfits. You can pick from some of the most beautiful designer heels, stunning sandals, glitter sneakers, oversized jewellery, and cool clutches. These accessories are mandatory to steal the spotlights tonight. Don't forget to also advise them on the party hairstyles as well.
Have a blast getting your favorite Disney Princesses sassy and classy while playing the Princess All White Night Party game for girls online at Prinxy.app!
Game Controls
Use your mouse to browse through all the category tabs in this online Disney Game.
Similar Games
Here are three more Princess Party Games you should check out:
Princess Dorm Party
Princesses Party Girls
Princess And Prince College Party