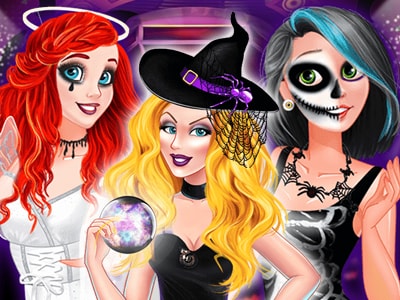 Playing Princess At The Villain's Party on Prinxy
The story about Princess At The Villain's Party
These three beautiful BFFs love costume parties! So Ariel and Rapunzel decided to throw one where all the attendants have to wear a jaw-dropping costume, but Cinderella doesn't know what to wear! The preparations are in full swing, and you are invited to join the fun! Get started with the Princess At The Villain's Party dress up game for girls and see what spooky look you can put together for Cinderella as she's getting ready to attend a creepy non-Halloween party!
Evils of the fairytales and princesses… Let's see how this collaboration will go. In this online princess game, your task is to find the spookiest costume for Cinderella. The princess has no idea what to wear for this occasion, and she's relying on your good taste and memory skills. But deciding on her party look, let's browse through a selection of famous villains looks. In this game, we gathered them all! Cruella, Maleficent, the Queen of Hearts, Harley Quinn, The Evil Queen, Ursula, Maleficent, and many others. Browse through all these unique villain looks, stop when you've found the perfect costume, and memorize all the details. Then, move to the next page of the game, browse through Cinderella's selection of evil costumes, and pick the clothing pieces, accessories, and the right hairstyle to create Cinderella's villain look. Can you make her the spookiest of all the guests attending the party?
Play with dark colors, go crazy with the accessories, and turn princess Cinderella into one real villain. Have a blast playing the Princess At The Villain's Party dress up game for girls online at Prinxy.app!
Game Controls
Use your mouse to interact.
Similar Games
Here are three more Villain Games you should check out: