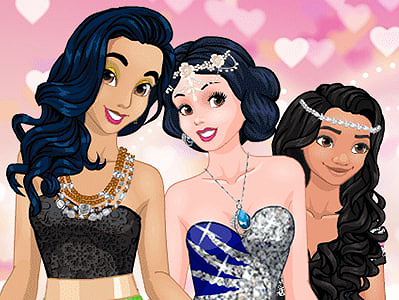 Playing Blondes Vs Brunettes: Prom Challenge on Prinxy
The story about Blondes Vs Brunettes: Prom Challenge
Six young princesses are looking to stand out of the print at the prom, and they asked you to style them for this long-awaited night of the high school. They have always been rivals, and the prom night is yet another opportunity for each gang to prove they do it better. It's time to end this eternal battle between brunettes and blondes and, you can do it while playing the Blondes Vs Brunettes: Prom Challenge dress up game for girls online at Prinxy.app!
During the high school years, the gang of blondes and one of the brunettes competed on the most diverse themes. Who's more stylish and fashionable, who's the smartest, who's the prettiest, or the most popular in school. Luckily, this year's prom will settle everything. So feel free to get started with this brand-new dress up game and help your favorite Disney princesses end the eternal conflict between blondes and brunettes. It's Elsa, Aurora, and Cinderella vs Snow White, Moana, and Jasmine! Who do you think will emerge victorious from this conflict?
Become their personal fashion adviser in this online princess game, browse through all the selection of dresses and accessories available at your disposal, and choose a flawless look for every girl, making sure each of them will stand out of the crowd. You can choose from an impressive selection of floor-sweeping dresses, sequinned mini-dresses, ladylike midi-dresses, and some of the chicest jumpsuits the outfit you find is right for each princess. Then complement each chosen dress with elegant hairstyles, designer high heeled shoes, and sparkling jewellery.
Have fun playing the Blondes Vs Brunettes: Prom Challenge game online at Prinxy.app and try your best to help your favorite girls' gang win this fashion battle!
Game Controls
Use your mouse to browse through all the options in this online princess dress up game for girls.
Similar Games
Here are three more FREE Prom Games you should check out: