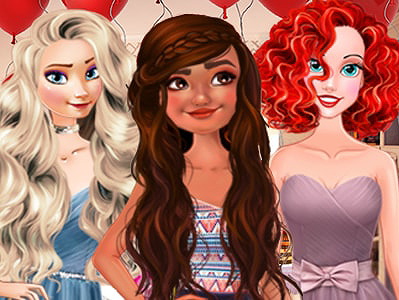 Playing Polynesian Princess Tropical Sweet Sixteen Party on Prinxy
The story about Polynesian Princess Tropical Sweet Sixteen Party
Prep your dancing shoes, it's party time! This year Moana's going to celebrate her sweet 16. She's crazy about it! You're one of the special guests, so simply get started with the Polynesian Princess Sweet Tropical Sixteen Party game for girls to join the fun!
Moana's birthday party is going to be small but her closest friends will be there for sure. Ariel and Elsa plan to organise the best party for their friend and they could use your helping hand. Are you in? They already brought all the decorations, but they need you to put everything in the right place. In this online room decoration game for girls, you become an interior designer and you get to turn Moana's bedroom into a lovely party venue. Check out the options available at your disposal and fill the room with colorful balloons, many birthday gifts, and then deal with the colorful candy bar. The birthday party wouldn't be complete without an impressive birthday cake, cupcakes, cookies, and fruity drinks for our birthday girl and her guests.
Now that the room is decorated for Moana's sweet 16 party, you can move on and help our birthday girl pick her outfit for the big day. Browse through her chic wardrobe filled with princess dresses, trendy crop-tops, flared pants, and stunning design heels, and see how you can mix and match them. Ask Moana to try on the different combos you create and then pick the winning look for our lovely girl. You could go safe and pick a beautiful embroidered party dress or you could take a risk and create an outstanding look.
Are you ready for some more? Dare to continue playing this princess dress up game and be prepared for another fashion challenge. Next, you get to dress up Moana's beautiful guests as well. There are some stunning options in Elsa and Ariel wardrobe and you can decide on their party looks, too! Are they going for floor-sweeping dresses or will they impress with the loveliest cocktail dresses? Whatever you choose, accessorise their party looks with the right shoes, sparkling jewellery, and new hairstyles.
Have fun celebrating Moana's Tropical Sixteen Party on Prinxy.app!
Game Controls
Use your mouse browse through all the options in this online princess game for girls
Similar Games
Here are three more Moana Games you should check out:
Princess Dream Job
Ellie Visits Polynesia
Curly's Dreamy Summer