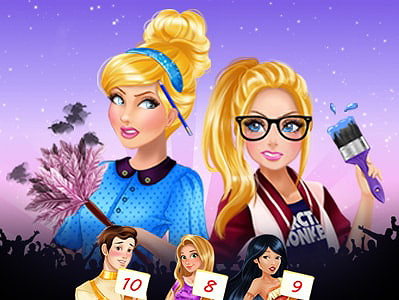 Playing Ellie And Cindy Teen Rivalry on Prinxy
The story about Ellie And Cindy Teen Rivalry
Cindy and Ellie are competing to become the most popular girl in the classroom. They are both attending the same high school but there is room for only one popular girl - are you curious to learn who will be our winner? Let's find out by playing this amazing game for girls called Ellie And Cindy Teen Rivalry!
High school can be an absolute jungle, but just like anything else in life, it can be a lot easier if you find a way to make it work for you. Being the most popular girl in high school might help. Both Ellie and Cindy are committed to doing whatever it takes to win the title. They are beautiful and talented and they always manage to compete with each other, but this time they are going to need your help. It's proving talent time, are they ready to impress?
One of the unwritten rules of "How To Become The Most Popular Girl In School" is to be yourself as much as you can. Meaning, whatever you do to impress the audience... make it look effortless and natural. Are you already curious to see what genuine talent each of them will throw into the competition? Then go ahead, keep playing this fun princess game online at Prinxy.app and find out.
Cindy is known for her amazing cleaning skills and let's face it, everyone loves a clean classroom. Wash the dirty windows, collect the leftovers on the floor and place them in the trash bin, dust the desks, clean up the locker, and wipe the board. Well done, ladies! The classroom is all nice and clean and ready to impress Cindy's classmates. Next, let's find out what Ellie plans to do to tip the scales in her favor!
Ellie is known for her styling skills. Of course, her talent refers to styling her daily outfits but beautifying a classroom can't be much different… or can it? Become an interior designer and together with Ellie decorate the classroom with fresh flowers, curtains, colorful desks, and cute stickers. Then add a nice message on the board… it will add some extra points in Ellie's favor.
Do you think the jury is now ready to nominate the most popular girl in school? It looks like they need to see some more. That's how they came up with the trendiest outfit challenge. Continue this online competition with a dress-up session in which you can dress up our beautiful schoolgirls in trendy clothes and girly-girl accessories. Then hit the next button to find our winner.
Have a great time playing the Ellie And Cindy Teen Rivalry Game for girls online at Prinxy.app!
Game Controls
Use your mouse while to complete all the given tasks in this entertaining game for girls
Similar Games
Here are three more school games you should check out:
Ollie Goes To School
Princesses Back To School
Ellie And Blondie Back To School