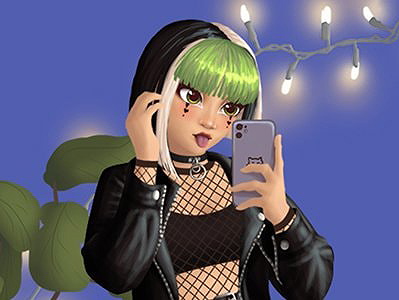 Playing E-girl Fashion Meiker on Prinxy
The story about E-girl Fashion Meiker
Today you talented ladies are challenged to play an amazing doll-maker game. Its theme is inspired by a very popular fashion style on TikTok and you are going to love it. So are you ready to create your e-girl's aesthetic in the E-girl Fashion Meiker game for girls?
Similar to all the doll-maker games you know very well, this game also begins with a creative task where you get to customize the look of your model. Check your options and decide on her facial features, and then surprise her with a stunning hairstyle. Build it by picking the left and right side of your e-girl's hairstyle. Great, now let's play with this girl's hair color. An e-girl's hairstyle is characterised by soft pastel shades and signature streaks in contrasting hues, often adorned with accessories as well, like butterfly clips and scrunchies.
Next, deal with her iconic makeup look. It's one of the most important parts of the look, so do it right. E-girls often choose heavy black winged eyeliner, bright blush swept across their cheeks and noses, and tiny temporary tattoos under their eyes. Complete her makeup with a nice lipstick color and then move on and create a unique fashion look for your e-girl. For her look, mix and match cool and gothic but also soft and cute items to create her outfit of the day.
Continue with this fun dress up game, dive into her trendy wardrobe, and see what items you can select to dress her up. There are shirts and baggy t-shirts to choose from, there are jeans, shorts, and pleated skirts that you can use to create this e-girl's unique outfit. Layer 90s nostalgia t-shirts over turtle-necks and striped t's, pair the chosen top with your favorite bottoms, and cool sneakers. Be creative and design your model's jaw-dropping #egirl aesthetic look.
Have a great time playing the E-girl Fashion Meiker game for girls online at Prinxy.app!
Game Controls
Use your mouse to complete all the activities in this online doll-maker game for girls
Similar Games
Here are three more TikTok Games you should check out:
E-Girls Transformation
Sisters Cozy Times
Villains Against Racism