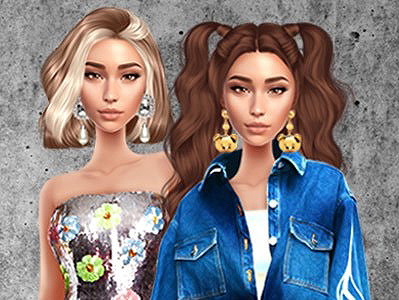 Playing TikTok Street Fashion on Prinxy
The story about TikTok Street Fashion
Step into the fashion-forward realm of TikTok Street Fashion, the ultimate dress-up game that guarantees endless style possibilities! Meet our fabulous quartet of trendsetting friends, each with an unrivaled wardrobe that reflects their distinct personalities.
First up is denim diva Dana, the queen of all things denim! Rock her wardrobe ruled by the timeless fabric that never goes out of style. Choose between stylish denim tops, ripped jeans, and cute denim skirts. Accessorize with trendy sunnies and funky denim shoes for that extra flair. With Dana, you'll channel your inner jean-ius and slay the fashion game!
Next in line is the ethereal sheer enchantress Stella, whose wardrobe oozes sophistication and charm. Enter her realm of translucent fabrics and delicate lace while playing the TikTok Street Fashion dress-up game for girls online at Prinxy.app. Choose from sheer tops, flowy maxi dresses, and exquisite sheer trousers. Don't forget to complete the look with elegant accessories like sheer gloves and ethereal golden jewelry. With Stella, you'll leave a trail of breathtaking beauty everywhere you go!
Now, prepare to shine like a star with the metallic maven Maya! Embrace the glitz and glamour of her wardrobe, filled with dazzling metallic outfits that make heads turn. Choose from shimmering metallic dresses, futuristic silver jumpsuits, and sparkling gold tops. Add some bling with metallic accessories like statement earrings and metallic heels. With Maya, you'll always be the center of attention, shining bright like a fashion supernova!
Lastly, meet Grunge Goddess Gia, the ultimate rebel with a wardrobe ruled by all things grunge. Embrace the edgy and badass fashion vibe with her collection. Choose from ripped band tees, loose boyfriend jumpers, leather pants, and chic shirts. Accessorize with golden hoop earrings, combat boots, and chunky chokers to perfect that grunge look. With Gia, you'll exude an effortless coolness that's always on-trend.
So, what are you waiting for? Dive into the world of TikTok Street Fashion and unleash your styling prowess. Mix and match, experiment, and create the most fabulous looks for our four stylish friends. From denim to sheer, metallic to grunge, this game guarantees fashion fun and endless style inspiration. Get ready to slay the virtual runway and become the ultimate fashion influencer of TikTok Street Fashion!
Game Controls
Use your mouse to browse through all the options in this online game for girls.
If you like this game, you can also try other TikTok Games by Prinxy.app: