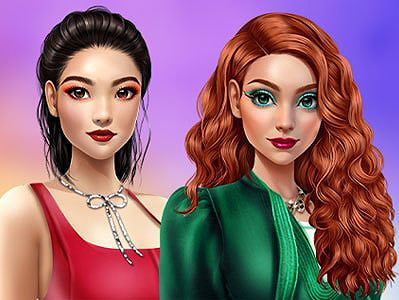 Playing TikTok Trends: Colored Denim on Prinxy
The story about TikTok Trends: Colored Denim
Welcome to TikTok Trends: Colored Denim, where three fashionable friends get to dress up in trendy denim pieces!
The colored denim trend has been making waves on TikTok, and other social media platforms for months, and now lands on Prinxy.app to teach you how to get your daily looks out of the ordinary! Colored denim pieces come in a wide variety of colors like light purple, bright green, indigo, and even baby blue. They're great for making a statement and adding some pizzazz to your look! Denim pieces can come in all kinds of shapes and forms - from ripped jeans to denim skirts and jackets. You can also layer them up to create an even bolder look, so you can't go wrong! With so many options to choose from, you can go wild and express your inner fashionista. Get creative and mix and match your colored denim pieces for the perfect statement look while playing the TikTok Trends: Colored Denim game for girls.
But first, let's meet the squad: there's Savannah the avant-garde fashionista, Tiffany the stylish minimalist, and Isabella the cool-girl hipster. You're starting to deal with Savannah's look. We want to make sure she stands out from the crowd! She can choose a mini-dress with rips, tattered hems, and patches or she can go for a leather corset and a flared pair of jeans. Statement jewelry pieces and vibrant-colored sneakers are a must for her look. For her makeup, she loves to go bold with neon eyeshadow and dramatic, statement liner. Bright lipstick will make her look pop!
Now let's chat about Tiffany's classic look. She loves to keep her look simple and understated, but still make an impact. As you continue playing this fashion game, you can help her decide if she should opt for a mint green jumpsuit, jeans, shorts, or a denim skirt in a neutral color like beige, gray, or black. She can also pick out accessories like golden necklaces, or a cute bangle to add to her style. For her makeup, she'll stick to classic shades like pink or nude lips. She'll also go for natural-looking eyeshadow and a subtle cat eye.
Finally, let's see what you can do with Isabella's look that's all about channeling the cool-girl hipster style. There are lots of options in this online dress-up game for girls, so feel free to browse through all the options and pick the right denim look for her - from punk rock-inspired pieces to more laid back, laid-back options like cargo shorts or skinny jeans you can pick anything. She can accessorize with bold bags or bright sunnies and add a kick to her look with flashy sneakers. To complete her look, she can add a light dusting of bronzer and fill in her eyebrows. Then top it off with a subtle lip tint and a lip gloss in a fun color.
Now that the girls are dressed to impress, get ready to take the TikTok Trends: Colored Denim challenge!
Game Controls
Use your mouse to browse all the options in this online game for girls.
If you like this game, you can also try other TikTok Games by Prinxy.app: