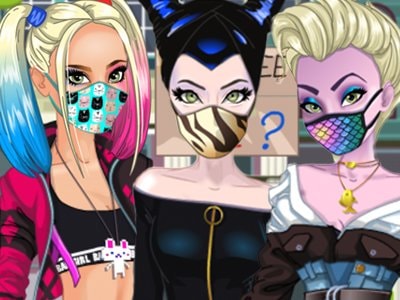 Playing Villains Against Racism on Prinxy
The story about Villains Against Racism
Even some of the meanest villains are against racism and they decided to join the daily Black Lives Matter protests happening in the USA. Are you ready to learn who they are? Then come and join them in this brand new dress up game for girls called Villains Against Racism!
Harley Quinn, Maleficent, the Evil Queen, and Ursula have their protest boards ready and they just need to deal with their casual looks. And here is where your fashion skills are needed. Come and join the anti-racist protest together with our fashionable villains and see what stunning casual looks you can put together for each one of them while playing this amazing dress up game for girls called Villains Against Racism.
The first in line is Harley Quinn. This jaw-dropping villain is so into tank tops and colorful leggings this summer. Put two of your favorites together and then match your selection with a cool leather jacket and a pair of sneakers. Keep her safe with a fashionable fabric mask and complete her look with a leather choker.
Now let's see what cool look you can create for Maleficent. She's more into leather tops that she loves to pair together with black leggings or leather skirts. Have her try on all your favorite combos and then pair the chosen outfit with a suit jacket adorned with metallic epaulets or with a feathered blazer. Put a statement necklace around her neck and then pick a sign with a powerful message on it and she's ready to hit the streets looking in style.
The next villain in line is none other than The Evil Queen. Lots of denim items and trendy sneakers rule this Queen's casual wardrobe and for sure you ladies are going to find something cool for her to wear today. Then go ahead and build Ursula's look around the cutest fabric masks she owns… a glitzy mermaid-inspired mask, of course.
Keep in mind, there are only two rules you need to follow while getting them ready for today's long session of protests on the street: the shoes must be some of the most comfortable because they are going to walk for miles, and fabric masks should not be missing as they keep them safe against the COVID-19 virus.
Have a great time playing the Villains Against Racism dress up game for girls online at Prinxy.app!
Game Controls
Use your mouse to browse through the category tabs in this online dress up game for girls
Similar Games
Here are three more Villains Games you should check out:
Guestzilla Villain
Villain's Modern Makeover
Harley Wants To Be A Princess