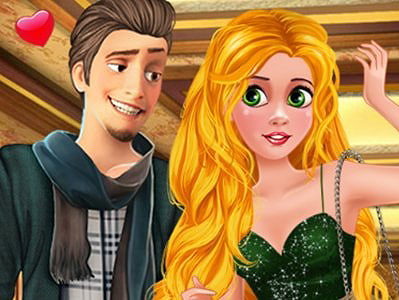 Playing 2 Dates With Fashion Princess on Prinxy
The story about 2 Dates With Fashion Princess
This gorgeous fashionista has not just one but two dates tonight. Can you help her look amazing in this brand-new dress up game for girls? Let's join her in getting started with the 2 Dates With Fashion Princess game for girls.
Princess Rapunzel is one of the most popular princesses on social media. She has many fans from all over the world and sometimes she picks 2 lucky fans for a 101 meet and greets session. This time her attention fell on these two handsome men and tonight she's going to meet them both. We're talking blind dates so she needs to look amazing, of course. The only problem is that this beautiful fashionista is not sure about her outfit and here is where you can help her out.
Continue playing this online princess game for girls and help the long-haired princess to get ready for her dates. She's got way too many fashionable clothes in her wardrobe so take the time to check them all. There are chic glitter dresses just perfect for a dancing night, there are feminine lace dresses, playfully printed dresses perfect for something casual, and there is also a selection of denim dresses to choose from. Have her try them on and choose the chicest of them to dress her up. Next, complete the look with a stylish haircut and trendy accessories of your choice.
Well done ladies! Thanks to your help she's now ready to go to her date. Have an amazing time playing the 2 Dates With Fashion Princess game for girls online at Prinxy.app!
Game Controls
Use your mouse to browse through the category tabs
Similar Games
Here are three more Rapunzel Games you should check out:
Princess Boyfriend Tag
Magazine Diva: Blondie
Goldie Fashionista Busy Day